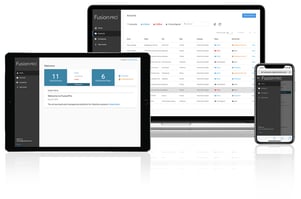 The new FusionPro back-end management platform will simplify and enhance the way you install and manage security systems. Here's what you need to know.
Meet the All-New FusionPro
Back-End Management and RMR Platform
Learn what you need to know about this powerful new platform.
FusionPro is a major new back-end platform that will simplify and transform how you install and manage your Clare systems; it's more productive, more secure and designed to facilitate your RMR.
FusionPro combines Fusion, Install Assist and ClareNet into one integrated platform.
Account administration: You can set up user accounts, alarm services and profile data in FusionPro before or during the installation – eliminating the need to load Fusion with like data.
Central Station: Information is all tracked in FusionPro – eliminating ClareNet.
Once onsite: Add, configure and test devices from FusionPro – eliminating the need to use Install Assist.
New features: Not in any of our current tools:

Programming actions (scenes, schedules, notification, automations)
Testing radio signal strength for WiFi, RF, LTE and Z-wave
Collecting all the data you need to activate the account with your central station
Our goal with FusionPro is to streamline your business – from account generation to installation and post-installation support. All on ONE platform. All FusionPro. For your convenience, we developed FusionPro as a responsive web application, meaning you can run it on a mobile phone, a tablet or a laptop computer – it will automatically reconfigure itself based on the device you are using.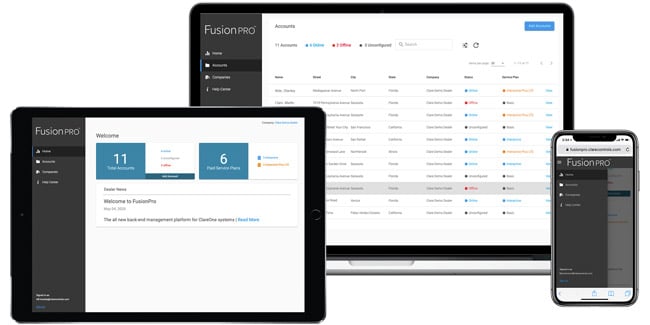 ---
Now that you have a brief understanding of FusionPro,
What should you do next?
FIRST: Discover the tools we have made available for you to get up to speed on FusionPro:
SECOND: You now have complete control of your employee access rights.
Your team is already visible to you in FusionPro. Now would be a great time to check and update your team members and roles. If an employee is no longer with you, you can remove them from FusionPro. Note: some of your technicians may not have been added to your company when we migrated data to FusionPro, and you'll need to add them individually. Easy, just click the blue Add Staff button to get started (example below).

THIRD: All your current accounts are now visible in FusionPro. Let's take a look.
Don't worry, nothing specific to the operation and functionality of any of your accounts has been changed, and FusionPro is 100% transparent to your customers.
You will immediately see key advantages to having your projects in FusionPro – namely VISIBILITY!
See and manage all existing accounts quickly and easily:

FusionPro puts more information at your fingertips. On your main FusionPro screen, you'll see a snapshot of your current accounts, including which are online and offline. Then you can drill into the details to determine, for example why an account is offline, and take corrective action.
At the individual account level, you can see customer info, service plans, attached devices (with their real-time status), and actions. You can filter accounts by status, service levels, name and a host of other attributes allowing you to quickly ascertain the status of your customer base.

From there, selecting a specific account gives you further visibility into system status, device status, service levels and more, including a link to Legacy Fusion (more on that later).

See FusionPro in action in the video below:
Looking Forward
FusionPro is our direction for all our backend services. Here are a few key points you should know about FusionPro today:
Drivers: Legacy Fusion supports hundreds of drivers. We elected to port the most commonly used drivers first and migrate the lesser used drivers over time. See our list of currently supported drivers.
Existing projects with drivers not supported by FusionPro: Existing projects and all of the associated devices will show up in FusionPro as well as their online/offline status. You cannot EDIT the configuration of a Legacy device or add a Legacy device from FusionPro. We have provided a convenient link (see above) for you to access your project in Legacy Fusion. You can click on that link and it will take you to the project in Legacy Fusion for you to make any adjustments you need to make. You deploy as always, exit and the changes will be reflected in FusionPro.
CLIQ.Mini's and Clare Secure kits: These products are fully supported. You can see status, edit device configurations and enable/disable alarm services from FusionPro.
Will the devices I add in FusionPro show up in Legacy Fusion? Yes, if you add the UUID to Legacy Fusion, it will sync automatically to the deployed device, CLIQ or ClareOne.
What should I use going forward? FusionPro, Legacy Fusion, a Mix? Simple –

use FusionPro

for all configuration and account management. Use Legacy Fusion only when necessary to configure Legacy Drivers.
FusionPro with New ClareOne Systems

Looking forward, FusionPro is the back-end for all ClareOne security and smart home installations. It's an essential component in our One App, One Panel, One Platform ecosystem designed to help you delight clients with an easy and intuitive experience with the ClareHome App and the ClareOne Panel, while you leverage the new advanced management features of the FusionPro Platform. Be sure to read the ClareOne First Time Dealer Experience document before your first ClareOne installation. Watch for more information on the ClareHome panel and the new ClareHome app coming soon.
We're excited, and think that you will be, too, when you see the new FusionPro!
FusionPro Tools:
Stay tuned for more updates!