What is FusionPro?
FusionPro is the ultimate business management solution for security and smart home dealers. With FusionPro you can create and manage your staff and customer accounts, add and configure security, and add home automation devices.
FusionPro overview
FusionPro is divided into different sections for user ease. The sections (Home, Accounts, Companies, and Help Center) appear in the menu and allow the user easy accessibility to the desired content.
Note: Most pages are mobile phone friendly, allowing the user the ability to access and make changes as needed easily in the field.
FusionPro menu
Home: The first thing seen when logging into FusionPro, it contains a summary of all accounts, plans, and Dealer News.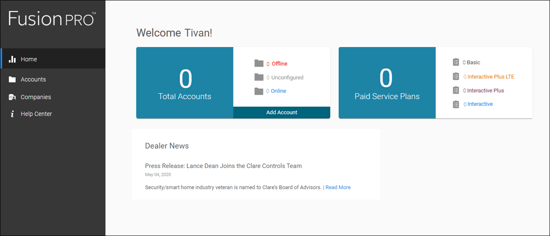 Accounts: Hosts a list of company accounts (user projects).
Note: Accounts are managed (modified/deleted) from the Account tab.

Companies: Hosts company information and a list of sub-companies.
Note: Sub-companies are managed from the Companies tab.
Help Center: A link to the Clare Controls Help Center.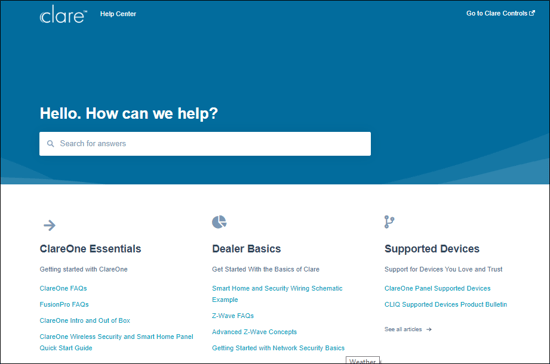 What to do first? - Company setup and staff management
Setup your company account and add staff.
See Company and sub-company management in the FusionPro User Guide.
Configure your company information
Create your staff and assign them user types

User Types and access
Company Admin: Can perform all staff, account, and company management tasks.
Security Admin: Can perform account management tasks as well as modifying the installer and master PINs on a ClareOne device.
Billing Admin: Rights forthcoming. When reporting is available, billing admins will be able to view account information and export reports as needed.
Installer: Can modify account information but cannot reset installer or master PINs on a ClareOne device.
What's next? - Central stations
Configure your company's Central Stations list.
Creating the Central Stations list allows you and your staff the ability to quickly select and add the desired station to each customer account. This pre-created list saves time and hassle, prevents incorrect entry, and allows users to see different list options.
See Central Station list management in the FusionPro User Guide for full configuration information.
What now? - Customer account creation
Create your customer accounts.
Create an account for each smart home controller. Once the account is created, it can be managed from FusionPro.
Notes
Once created, accounts cannot be deleted.
Once an account is created and onboarding is finished, an email is sent to the account owner (homeowner) inviting them to create a login for the ClareHome app. This login allows them access to customization and configuration of their home project.
See Account management in the FusionPro User Guide for full account information.
FusionPro Getting Started Video
Benefits and limitations
FusionPro benefits and limitations of today:
Drivers
Legacy Fusion supports hundreds of drivers. We elected to port the most commonly used drivers first and migrate the lesser used drivers over time. See here for a list of currently supported drivers.
Existing projects with drivers not supported by FusionPro
Existing projects and all of the associated devices will show up in FusionPro as well as their online/offline status. You cannot edit the configuration of a Legacy device or add a Legacy device from FusionPro. We have provided a convenient link (see above) for you to access your project in Legacy Fusion. You can click on that link and it will take you to the project in Legacy Fusion for you to make any adjustments you need to make. You deploy as always, exit and the changes will be reflected in FusionPro.
Mini's and Clare Secure Kits
These products are fully supported. You can see status, edit device configurations and enable/disable alarm services from FusionPro.
Will the devices I add in FusionPro show up in Legacy Fusion?
Yes, if you add the UUID to Legacy Fusion, it will sync automatically to the deployed device, Cliq or ClareOne.
Common getting started with FusionPro FAQs
What tool should I use, Fusion or FusionPro?
FusionPro. FusionPro is the all-in-one ClareControls platform. It allows you to easily configure and manage your accounts. Fusion is only recommended when configuring legacy drivers and devices.
Do I need to use FusionPro for ClareOne panel configuration?
Yes. Once the ClareOne panel is online and configured, it must be added to FusionPro for homeowners to access their account in the ClareHome app. FusionPro ties the panel and the account together.
Are all of my projects imported as Accounts?
Yes! All of your current projects have been imported from Fusion into FusionPro as Accounts.
Verify each of your accounts has been imported correctly and lists the correct user as the main account holder.
Why are accounts offline?
Some accounts are not configured correctly, have lost internet, or are experiencing a technical problem. Contact the dealer/installer for each account to work on getting it back online.
Do I have to use a ClareOne panel to access FusionPro?
No. You can use existing CLIQ.minis.
What do my staff/techs see when accessing FusionPro?
Depending on the user type, each staff member has access to different configuration options.
User Types and access
Billing Admin: A Billing admin has access to security plans and billing information.
Company Admin: A Company admin has access to their own company, all sub-dealers, and their staff.
Installer: An installer has access to create and modify accounts.
Security Admin: A Security admin has access to security information and panel provisioning.
FusionPro training and documentation
FusionPro and ClareOne Training
FusionPro User Guide (DOC ID 1918)
---