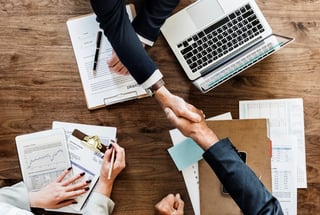 Are you new to the security industry and not sure where to start, or where to go next? Entering the security market adds new processes and business decisions. Do you maintain and service your security customers yourself? Should you contract a company to provide a part of your service? Or do you immediately sell the contact to a third party? We've compiled a couple of important questions every business should consider when introducing contract-based RMR. Be sure to read on to learn more.
It's a big decision, with many questions and options to consider. Let's look at what fits into your future plans:
Do You Want To Maintain Your Customers and Contracts?
Maintaining security customers and contracts offers, on average, the highest revenue streams over a long period of time. If you wish to manage and maintain each customer and contract, here's what you should know:
Plan out how you will bill and manage subscriptions. Many electricians and dealers often contract this responsibility to 3rd party service providers.
You must offer a timely and responsive service to equipment failures, as well as troubleshooting.

Your service technicians must include spare/backup equipment like contact sensors, batteries, and more. This help reduce additional truck rolls that significantly eat into operating costs.

When selecting a call monitoring center, understand the fees involved. Typically, there is a base fee for a land line customer, and an additional fee if the customer is using cellular backup. Different call centers also support different types of alarm triggers. For example, you may have a customer that requires a smoke detector that triggers an alarm. Be sure the call center you choose supports the alarm system and devices you will be installing.
Do You Want To Maintain the Contract But Not The Billing?
If you wish to subcontract out a specific part of your service or business, there are many companies that specialize in servicing security customers. Some service providers offer options like answering service calls, dispatching service technicians, booking appointments, taking orders, and even billing on your behalf. This is most common for installers who wish to maintain the security contract without having to deal with certain aspects like billing, or receiving support calls.
Do You Want To Sell Your Security Subscription Contracts?
A very popular model involves selling the security contract to a third party monitoring service. Many electricians today have started to offer free security systems with a sign-on monthly contract that ranges from 3-5 years. The contract is then sold off to a contract funding company for 34-45% of its total monthly value! In this case, the burden of managing and servicing the security contract is transferred to the contract funding company. The cost of a 3-year monitoring contract fully covering the cost of the security equipment and installation time, while bringing in additional profit to the installer.
For example; a security monitoring contract that has been signed for a 3-5 year term can often be sold in excess of 30-45% of its month-to-month value, with the buyer taking on the monitoring, and in most cases, the servicing responsibilities.
Be sure to stay tuned on upcoming announcements regarding our developing security program.
Clear HERE to see our full-range of security products:

---
In Part I of this series we covered the trending shift in the smart home and security industry to a subscription-based model.
In Part II of this covered Clare Controls, our products, services, marketing, sales tools and strategies that ensure your success.
In Part IV of this series we will provide you with a getting started checklist for the new alarm contractor: contracts, licensing issues, billing, call centers and common tools in the industry that help you streamline your service offering…
Wish to know more? Reach out to our inside sales team at any time with questions you may have on getting started!