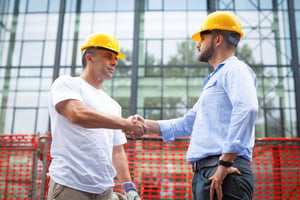 As smart home technology becomes more ingrained into our day-to-day lives, homeowners will insist on having it in their new residences. Home builders know this, and are looking for ways to offer robust smart home features in their homes. Here's how dealers can gain more builder business for themselves.
As a dealer, partnering with reputable builders is beneficial to everyone, and especially to your business. For example, your customer acquisition cost will drop significantly due to the residential construction firms offering smart home as part of their base home package. In this instance, the builder is the one who focuses on the selling, and it's the dealers tasks to provide the hardware and installation services. It's that simple.
The Game-Plan
Before approaching a builder with smart home, you need to do a little homework:
1.) Determine what smart home features you will be offering.
As part of the process, you should be well-versed in knowing which products compliment each other, and which ones are more lucrative for both home-buyers and builder, this includes the capabilities and limitations of smart home products such as Z-Wave devices.
Be aware that some smart home products may not be appropriate for the market cost of the home. For example, while features like motorized shades, brand name speakers built into walls, and custom theaters sound great on paper, they are often considered expensive luxury items that may not be appropriate for a production home.
As a Clare dealer, you have access to a wide-range of training materials and documentation through our knowledge base to help you select the right product for your upcoming project.
2.) How will you go about identifying prospective builders?
Knowing which builder to approach is just as important as knowing what to approach them with. Your business should focus on builders who have enough volume installations every year to cover your expenses and product cost.
Clare is partnering with many new home builders every year who rely on their local dealers for supplying materials, knowledge of product, and installation services. In specific cases, Clare can help with partnering a builder and a dealer.
3.) What will your pitch be?
Clare offers a wide-range of supporting product material that include marketing materials, sales training, documentation, free web-based training, and much more. These tools are available to all dealers who wish to pitch the smart home platform to their local builders.
Additional Considerations:
Offering professional security monitoring is a powerful source of recurring revenue for dealers, but not a strong interest for builders. In many cases, builders will steer clear of the topic on security monitoring as it involves further commitment post homeowner move-in. Their focus is the sale of the home, period.
Dealers who lead with the smart home offer in their pitch have a strong impact on the home builder as it directly affects and improves the changes of the final home sale. This also presents an opportunity for the dealer to approach the homebuyer the day after they move in with an offer for professionally monitored security that is already built into their smart home through Clare! It's a matter of switching it on!
This is a powerful win-win solution for everyone involved:
The builder increases their home sale with the premise of smart home technology.

The dealer supports the construction phase, and is presented with an opportunity to increase their RMR with the sale of monitored security post move-in.

Most importantly, the homeowner holds the keys to a new smart home that can be further expanded with professional products, or a wide-range of DIY options.
Relevant Blog: A Simple Strategy To Working With Production Home Builders
Have questions? Our inside sales team is here to help!
941.328.3991 ex:7049