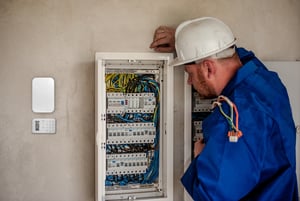 Is your business looking for an additional source of revenue? There is a huge opportunity in offering professional security monitoring through Clare. Businesses like electricians, locksmiths, or even existing custom CEDIA-style installers can tap into recurring monthly revenue through security installations. In this blog, we'll show you how your business can start taking advantage of this huge opportunity.
---
What is Clare Professional Alarm Monitoring?
The smart home doesn't end at home automation. As our industry turns towards security, it's important that dealers adapt to this change. Clare offers our partners the option to introduce professional security monitoring into their projects. The greatest appeal of security is the large amount recurring monthly revenue (RMR) created from security subscriptions.
Not every installer is interested in the billing or management of monitoring contracts. For this reason, security contacts are often sold for 30-40% of their monthly value to 3rd-parties.
Contact us to learn more: 941.328.3991 ex:7049
How Does It Work?
It's simple actually; the appeal for home automation is booming today. Home automation however, does not offer monitored security. The many DIY options available simply do not compete with 24/7 professional monitoring. Clare's single platform allows businesses to offer home automation, professional security reporting, and video monitoring in a single package that scales regardless of the type of job. Importantly:
You are not required to sell or even offer home automation or video monitoring
Homeowners can always add to or expand their home automation as they see
You can generate additional revenue through RMR subscriptions with security
Or sell the contract to a 3rd-party for 30-40% of the monthly value
Homeowners have access to 24/7 professional security monitoring
What Security Products Do We Sell?
As a partner of our security program, you will have access to a wide selection of security products, such as the Resolution Helix Panel, sensors, detectors, wireless pin and keypads, security kits, as well as our wide selection of video monitoring and home automation devices. In addition, we offer employee training kits, free training programs, marketing support, walk-through video's, and so much more! Take a look at our security product lineup here:
Who Is This Program For?
Everyone! Our case studies have shown huge success with large dealers, smaller CEDIA installers, major regional electricians, locksmiths, and many others. As the installers are already on-site and servicing a home, their contact with the customer gives them the opportunity to easily sell a 3-5 year monitoring contract. In many cases, the installers are actually selling the monitoring contract to a 3rd-party buyer the moment they get back into their truck! A single phone call gets them paid instantly, leaving the responsibility of the security system and further customer interaction to the 3rd-party! A 3-year security contact pays for the equipment and installation time its first year!
What's The Catch?
Actually, there isn't any. Clare offers a single solution that brings the most popular home automation and entertainment devices, monitored security, and video monitoring under one platform. It doesn't matter how large, small, complex, custom or how many projects you have. Clare scales with what you need using one smart home controller.
Want to learn more about Clare Security? Check out our Security Deep Dive
I'm Interested. Now What?
We're here to help! If you are currently a Clare certified dealer who wishes to offer security, our Inside Sales team is available to answer any questions you may have, and to help you get started.
941.328.3991 ex:7049
If you are new to Clare, download our dealer playbook. Here, we cover everything you need to know about becoming a Clare Dealer, our products and the services we offer. Tap Start Application to get started right away.