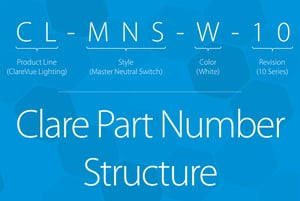 Did you know that each Clare product part number has a meaning? Today, we're breaking down the part number structure for our ClareVision Plus, ClareVue Lighting, Clare Stream and Clare Media product lines.
---
Looking for a reliable camera solution? Take a look at our ClareVision Plus camera line!
ClareVision Plus
The ClareVision Plus product line has the most unique and informative part number structure. Here's an example of one of our popular cameras, the ClareVision Plus 2MP Turret Camera.


Product Line - ClareVision Plus, ClareVue, ClareStreams, etc.



Series - Determines the series; (B)udget, (M)ainline, (P)roline

MP - The cameras megapixel size, 2MP, 4MP, etc.

Form Factor - (T)urret, (B)ullet, (D)ome, (C)ube, (D)oor(B)ell, (P)an(T)ilt, etc.

Revision - Internal series number

Unique Specs - ODI/IDI (Outdoor/Indoor Illuminated), W (Wireless)
Here we can see the ClareVision Plus 32-Channel NVR.

Channels - Displays the number of camera channels available

PoE Ports - Here you can see how many of those channels include PoE support

Included HDD - The total TB size of the included on-board Hard Disk Drive.
---
ClareVue Lighting
ClareVue Lighting follows a similar structure with varying values.



Style - This is the form factor and function of the light controller. Combinations include:

MN/AN - (Master Neutral/Accessory Neutral), S

/

D

- (

S

witch/

D

immer)



APS - (Appliance Switch), LDM (Lamp Dimmer Module)
TRR - (Tamper Resistant Receptacle)
5KP - (5-Scene Keypad)

Color - There are two possible color variations: (W)hite & (L)ight (A)lmond
---
Media Distribution & Amplifiers
Media Distribution and Amplifier part numbers also hold unique values.


Function - If the unit transmits/receives a digital signal




Range - Common range includes 70M and 100M

Channels - First digit displays the number of possible audio input channels

Wattage - The number of watts available for each channel.
---
Any products that are not manufactured by Clare Controls directly will usually use a part number supplied by the original manufacturer.
Have questions? Our inside sales team is here to help!
941.328.3991 ex:7049