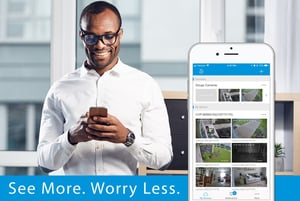 Our ClareVision Plus App is getting a big update! In addition to a more simplified user experience and UI re-design, we're adding some new features like camera favorites, swipe controls, bug fixes, QR code enhancements, and more. Take a look inside for additional details on the new Clare Video Doorbell Firmware release.
---
What's New:
Optimized Home Page
App home page has been simplified and optimized to be me more user-friendly.
View Favorites
Users can save & customize multiple live camera feeds into a new favorite's category.
Camera View Swipe
You can now swipe left and right between different camera live streams.
QR Code Enhancements
Scanning QR code reliability increased when adding new cameras.
Fixes Logout Issue
Fixed a bug that was causing some users to be logged out of the app.
Bug Fixes & Optimizations
We have introduced several bug fixes and app performance optimizations for all users.
Download the latest version of our ClareVision Plus App Guide below:


---
That's not all! We're also releasing a new firmware update for the Clare Video Doorbell. Click the release notes below for a detailed breakdown on what's included in the firmware update.
Click HERE see our previous blog on how to install camera firmware.