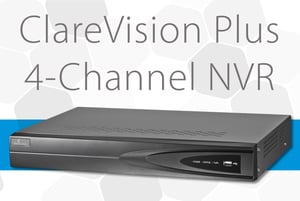 This week, we are releasing a new ClareVision Plus 4-Channel NVR. Features of the new NVR include an enhanced video codec that allows for greater storage efficiency, as well as improving support for high-resolution surveillance cameras.
In addition to a sleek new design, the new 4-channel NVR includes the following features:
Supports up to four 8MP or less IP cameras
4 Ports PoE
3840x2160 max. recording resolution
HDMI output support up to 3840x2160p (4K)
Easy plug-and-play installation
H.265+ codec increases storage efficiency by up to 75%

---
IMPORTANT NOTE: With the release of the new 4-Channel NVR, we have discontinued the old ClareVision Plus 4-Channel NVR. You can find the old product in the Discontinued Products Archive.