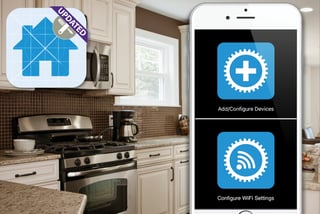 With the newest upcoming release of the Install Assist App, installers can now pair and setup Nest and Honeywell Lyric thermostats from the mobile App. Setup and configuration of lighting keypads just got easier as well! Set up a physical or virtual keypad to work as a lighting toggle keypad, or as a smart home scene keypad, all from the Install Assist App.
The updated Clare Install Assist App allows dealers to pair and program more devices without a network connection or laptop. Simply configure Clare's CLIQ.mini controller to any Wi-Fi network and then quickly add compatible lighting, sensors, Helix security panels and sensors, and other Z-Wave devices to any ClareHome project.
This allows an installer to complete work before a home is finished or occupied, saving money and truck rolls. Using the Install Assist App only requires a few hours of free training, allowing companies to get more out of existing crews, and increasing your labor force overnight.
Over 75 devices can now be added using the Install Assist Mobile App, including:
Clare's CLIQ.mini smart home controller
Resolution Products Helix security panel and sensors
Clare IP Cameras and the new Wi-Fi Video Doorbell Camera (auto-discovered)
ClareVue Z-Wave lighting devices
ClareVue keypads
Clare Thermostats (auto-discovered)
Nest and Honeywell Lyric Thermostats
Yale, Kwikset, and Schlage Z-Wave door locks
Linear garage door modules
Watercop Z-Wave water control valves
Fibaro Z-Wave sensors
HEOS by Denon and Sonos streaming music products (auto-discovered)
See a complete list of Install Assist App compatible devices here.
You can also read more about the latest Install Assist App by reading our Release Notes here.