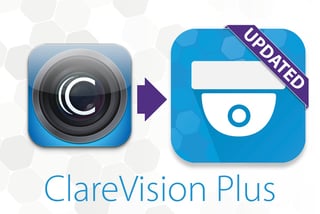 Since the release of iOS11, support for the legacy ClareVision App will be discontinued. Clare's new ClareVision Plus App should be used to prevent any camera configuration or viewing issues.

The new ClareVision PLUS (CVP) App is a large improvement including many new features not included in our previous ClareVision App. CVP works with our latest line of cloud-based CCTV devices including new style NVRs and the Clare Video Doorbell. CVP simplifies the setup process by no longer requiring entering DDNS or external IP information when using CVP cameras, and does not require any router configuration to view live or recorded video. We have made many vast improvements to the App's speed, reliability, and ease-of-use, making a simple transition and experience for dealers and homeowners alike.

For information on setup and transition to the ClareVision Plus App, click HERE.