This week, we look at the top 10 most frequently asked questions from our dealers. Ever wanted to know where Clare fits in the Smart Home and Security industry? Or wondered about what tools are available to dealers? We've got your answers here!

1.) Do You Support "X" Product?
Clare Controls supports over 1800 different products from the most popular manufacturers, including voice control with Amazon Alexa, smart thermostats like Nest, Z-Wave lighting, and smart door locks!! This list is continuously expanding, so be sure to keep an eye on it!
---
2.) How Can I Use Clare To Expand My Business?
Experience the power of full-featured home automation and wireless security with alarm reporting in one, scalable platform. Clare is a cost effective and scalable solution that allows dealers to tackle everything from mainstream installations, to custom luxury projects in minutes.
---
3.) How Does Clare Compare to "X" Company?
Clare fills the enormous gap between current security platforms and luxury automation systems. The security centric solutions offer very limited product integration support, while the highly-complex solutions are very expensive and do not offer RMR. Clare is the only "True Smart Home Control" solution.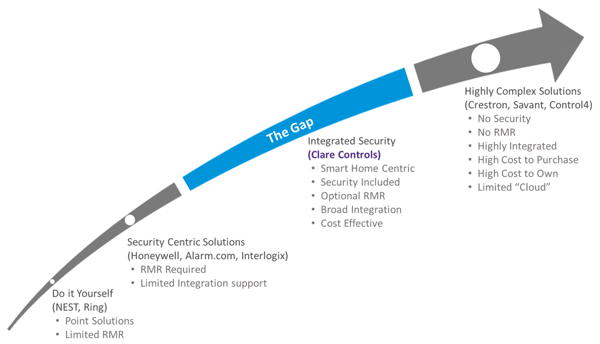 ---
4.) What Tools Do You Offer?
Clare features a wide range of tools which were built with dealer productivity in mind. From our web-based Fusion tool that allows you to manage and troubleshoot systems remotely, to the Install Assist App that lets you set up a full system in minutes; with or without internet!

For our security dealers, we provide ClareNet, a full-featured security management platform that lets you manage alarm reporting for your users.
We also provide a wide range of other support tools such as camera lens calculators to help you choose the perfect camera for your project, bandwidth calculators, and many more to help you along the way to becoming a more powerful and efficient dealer.
---
5.) What Are Your Feature By Feature Comparisons?
Here are the most frequently asked about ClareHome features: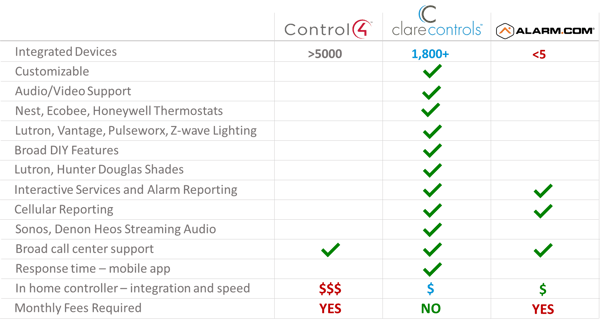 ---
6.) Is It Easy To Install?
Yes! You can install a full Smart Home and Security system in minutes! In addition, the ClareHome platform supports auto-discovery of the most popular devices like ClareVue Lighting, Cameras, Audio Speakers, Sensors, and even security devices! Simply follow the installation instructions included with your device, and ClareHome will do the rest!
This user-friendly platform is also extended to the homeowner. Homeowner can carry out their own DIY projects adding specifc auto-discoverable devices such as HEOS or SONOS speakers, and much more!
Additionally, the award-winning ClareHome App can even be customized by the homeowner to their liking. This removes the need for costly app programmers, developers, and truck rolls.
---
7.) What is ClareCare About?
ClareCare is the factory-direct support for homeowners! Available 6 days a week for homeowners who are having issues, need support with their system, or have questions - We're here to help!
ClareCare takes the burden of support calls off dealers, saving them time and lots of money!
---
8.) Tell Me More About The Homeowner App!
Of course! The ClareHome App is available on both iOS and Android platforms for FREE! It allows the homeowner full control over their Smart Home and Security system using their smart phone or tablet device. They can access their system while at home or traveling (with internet access). Not only can the homeowner customize the app dashboard to their liking, they can also use the built in auto-discovery feature, allowing them to create their own DIY projects! Additionally, the app supports:
Schedules created by the homeowner to fit their needs

Custom Scene creation that is intuitive and easy

Notifications that alert the homeowner of events

Automations which can easily be created by the homeowner. i.e., turn on kitchen lights when the door is opened. (And that's just the start!)
---
9.) What is the Clare Video Doorbell?
The Video Doorbell is Clare's answer to the emerging doorbell camera market. Unlike the competition, the Clare Video Doorbell installs easily using your existing doorbell wiring! It features a wide 180° field of view at 1080p recording resolution, and two-way voice communication from your smart phone device.
We provide a 16GB on-board micro-SD card for storage with NO streaming costs, NO recording costs, and NO hidden fees, and best of all, you can upgrade it on your own up to 128GB! Included with the doorbell are 4 different colored face-plates to match your existing door lock and handle. To learn more, click on the image below:

---
10.) Surveillance? CCTV? Video Monitoring?
Yes! Clare provides a wide range of wired and wireless, fixed and varifocal lens cameras, as well as the Video Doorbell Camera from our ClareVision Plus product line! Additionally, we carry a full line of NVR's, micro-SD cards, and PoE converters to fit your project needs.
Homeowners can access their recorded video at no extra cost through the FREE ClareVision Plus App.