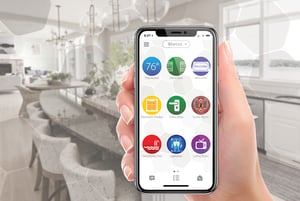 There's a new update being released to all ClareHome systems! Systems will be updated in batches over the coming week.
Packed in this update is support for Autonomic, August and Danalock smart locks, Clare's In-Wall Fan Control Switch, and Amazon Alexa security skill.
---

Imagine experiencing your favorite music all over again. We've worked hard with SnapAV to bring you full Autonomic audio streaming support to the ClareHome ecosystem.

It's official! Clare now supports the August Smart Lock Pro, one of the most popular smart locks available today.

Clare also supports the Danalock V3, a wireless smart lock that lets you easily control access to your home.

If you haven't seen it already, Clare recently released a new Fan Control Switch from ClareVue Lighting.
---
Frequently Asked Questions:
What do I need to do to prepare my customers ClareHome systems?
Absolutely nothing! The new update will be pushed remotely to all deployed CLIQ controllers during the least active times.
Do I need to connect and update the CLIQ controllers that sit in my inventory?
No. All CLIQ controllers automatically pull the latest firmware once they are powered and connected to the internet.
---
Looking to buy Clare products? Take a look at our product catalog!
If you have any questions about becoming a dealer, our products, how to order them, or this upcoming update, please contact your local Clare sales representative.