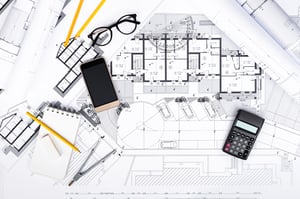 There are a lot of factors that are in-play when working with smart home. Today, we are covering some of the basic details all installers should think about when they first visit a job project.
The Home Network
Check the homes network coverage:
Home network coverage is one of the most important factors to consider when setting up smart home. Many "smart" products operate on Wi-Fi, and require adequate signal coverage at the install location. This is especially true for the smart home controller. There are many free apps available that will help you check the Wi-Fi network signal strength in different areas of the home such as the Wi-Fi Analyzer App, Dr WiFi, FING, and more.
Am I working with the right Wi-Fi frequency?
Many home ISPs are renting out modems/routers that can combine the 2.4GHz and 5GHz frequency under a single SSID. This can often pose an issue as some smart home devices (such as the Clare Video Doorbell, and other video doorbells) must be connected to a single, dedicated 2.4GHz Wi-Fi SSID. In this case, you may need to recommend the homeowner replace their router with one that separates the Wi-Fi frequency SSID's, or that they contact their ISP for assistance. In some routers, this can easily be toggled in the settings.
Location, Location, Location...
Device placement matters!
The install location of your devices is as important as your network coverage. There are many factors that can interfere with a wireless connection that can cause a bad experience for the homeowner. This can include wall build materials which involve rebar, bricks, concrete, wire mesh, and more. These materials can impact the Wi-Fi coverage, acting as a sort of "faraday cage". Always check the Wi-Fi signal strength at the install location prior to installation. You may need to relocate the router to a more central location of the home, add a wireless access point, recommend a replacement router, or re-think the location of the smart home device.
Is the room pre-wired?
Walk through the house and check which cables are available. Some houses can include Ethernet wires already dispersed to every room. Check for data/Ethernet cables, electrical outlet locations, and even the location of wired light switches. This will help in determining the best install location for your device.
Got a mansion on your hands?
Home size is EXTREMELY important. Smart devices that work over Z-Wave, ZigBee, or other mesh-style pairings require a properly configured network. In a 3,000sqft home for example; having a controller, light switch, window/door sensor, and a smart lock is most likely not enough to ensure a proper area coverage. Additionally, battery-powered Z-Wave devices like sensors and locks often do not repeat Z-Wave signals - meaning they do not enhance your Z-Wave mesh network. You should have a proper dispersion of powered light switches, plug-in modules, repeaters, etc. that will help grow the network. Failure to do so will most often result in control lag, disconnecting devices, and general unresponsiveness.
It's All About the Experience.
Does the homeowner have any existing smart devices?
Does the homeowner have a NEST thermostat or a Yale smart lock? Clare works with over 1,800 devices. There is a chance the homeowner may have one or two of these compatible devices that can be added to their smart home system. Not only does this hold significant value to the homeowner, but it also grows the installers reputation, which can in turn bring additional business in the future.
Did you test the devices before you left?
It's the simple things that often get forgotten. Remembering to check if a newly installed device is working can often be overlooked. When installing a light dimmer for example, ensure the light bulb that's being used is compatible, and that it won't produce flickering lights, or other unwanted experiences.
With Great Power...
Is proper power being supplied to the device?
hen installing a Clare Video Doorbell, always ensure you have consistent voltage power flow to the doorbell. The CVD requires constant 16 to 24VAC. While a home may have a doorbell, some could have been on there for generations. You don't want to be called back to the job sight only to find that the wire is corroded, or the transformer is 40 years old and can no longer hold a solid electrical flow. The same thought process can be applied to outlets.
---
Need help with an issue that is not covered by the above resources?
Be sure to Contact Us!