Smart Home Meets Smart Security
Online Webinar
Wednesday, July 17th, 2019 - Please join Clare CEO Brett Price, and Sr. Sales Engineer Jerry Bulda as they discuss the unique benefits of the Clare platform and how Clare is helping dealers expand their business portfolio by tapping into the smart home and security market.

Brett and Jerry will also cover a wide range of topics like the Clare ecosystem, dealer tools, Clare's integration with hundreds of today's most popular devices, and Clare's robust builder program.
Dealers will also receive an in-depth look at how to quickly acquire new builder business by pitching full smart home automation, then following with professional monitored security options to the homeowner. This process significantly increases their business growth through recurring monthly revenue streams.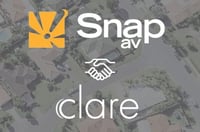 Most recently, Clare has partnered with SnapAV, bringing the Clare platform exclusively to SnapAV's thousands of dealers. Through the partnership, dealers have access to many exclusive distribution programs and promotions that give them a competitive edge in today's quickly growing smart home and security market.
---
Meet the Speakers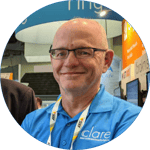 Brett Price
Brett leads the vision of Clare Controls.
He is also founder of the award-winning Tempus Pro Services, the largest integrator of home audio/video systems on the west coast of Florida.
Brett holds Master's degrees in Business and Electrical Engineering from Cornell University and was the youngest consultant ever hired by Touche Ross Management in Detroit, Michigan. He co-founded Cheetah Technologies, a developer and manufacturer of large-scale telecommunications test and measurement systems.
As President, he grew the company to over $60 million in annual sales, with 365 employees and system deployments in over 30 countries.
In 2000, Brett founded and subsequently sold ErinMedia, a media analytics company for the television industry, providing operators with research focused on viewership patterns using patented mathematic processes.
---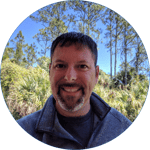 Jerry Bulda
Jerry has been a key player with the Clare Controls team for nearly 10 years. He comes with an extensive networking background with previous experience at Teltronics and Vertical Communications.
His current role at Clare as Senior Sales Engineer is a perfect match for his skill set and background. Specializing in pre/post sales, sales support, and all aspects of home automation, Jerry has played a major role in the success of Clare.
Join us July 17th at 1 P.M. CST
to hear from Brett and Jerry.