The ClareVision Video Surveillance Line features a wide range of Value and Performance Series of cameras and NVRs, and is available exclusively on the SnapAV Store. Come take a look.

Full line of Value and Performance Series cameras to fit your needs.
With ClareVision, you can select from a wide range of Value and Performance Series of cameras and NVRs that are scalable and flexible to your unique project needs. Most importantly, each camera and NVR gives you the performance and benefits of today's leading DIY and professionally installed solutions. ClareVision products feature NDAA compliance and are available at an incredibly low cost with no monthly fees!
It's almost too good to believe, so let's unpack!
---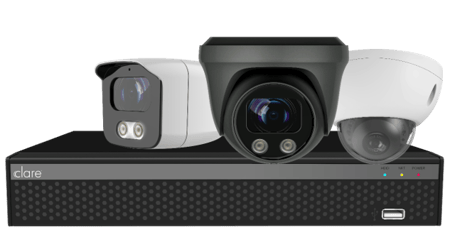 Fully Scalable. Fully Flexible.
ClareVision cameras are perfect for any job requirement. Each camera features micro SD card support, allowing for quick and easy setup and configuration for standalone projects or used with an NVR for larger, multi-channel installations.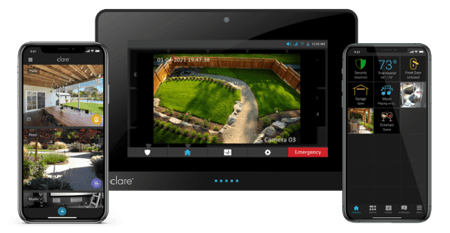 Fully Open.
ClareVision cameras can be used standalone using our newly designed ClareVision App, or combined to work in unison with ClareOne, allowing for video stream access on the ClareOne Panel or ClareHome App.


Have a larger project that features Control4? ClareVision cameras and NVRs can be easily connected for use with any Control4 system, no matter how large the project. ClareVision was designed as an open platform, featuring unique driver support for ClareVision cameras, Luma, Hikvision, legacy ClareVision cameras, and ONVIF compliant cameras. View our FAQs to learn more.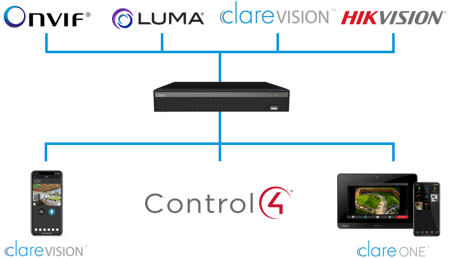 ---
Incredible Value.
Value Series of cameras are perfect for tighter budgets. Features include easy setup and configuration, can be used standalone, include SD cards pre-installed for local video storage, and support basic motion detection, arming schedules, and more.
Powerful Performance.
Our Performance Series cameras step it up a notch with Smart Events that feature human body detection, intrusion, line crossing, loitering, and people gathering detection. Each camera features a powerful Sony® Starvis™ image sensor.
NDAA Compliant.
All ClareVision cameras and NVRs feature NDAA (National Defense Authorization Act) compliance, allowing them to be used in government projects.
---
Complete Product Line:
ClareVision features a complete product line that ranges from 4, 8, and 16 channel NVRs to Value Series cameras that maximize dealer margins, as well as Performance Series fixed and varifocal lens cameras that support up to 4K video for your unique project needs.