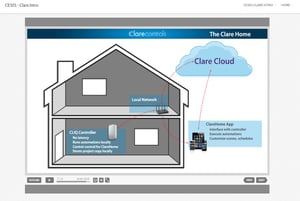 Clare Advanced Online Training
Clare now offers Advanced Online Training Modules to everyone who has complete Clare Essentials training.
Are you a current dealer looking to further expand your knowledge of Clare? Or simply checking into Clare as a smart home & security solution? Clare now offers 2 levels of certified online training for free, to everyone.
---
Want to learn more about online training? Check out our latest Tech Tuesday!


Clare offers two tiers of online training at no cost; Clare Essentials and Advanced Training. The modules cover our products, services, installation process, programming tools, troubleshooting and even basic Z-Wave mesh network setups! We help you succeed in the crowded world of home automation and security options!
IMPORTANT: Advanced Fusion Training is unlocked after the completion of Clare Essentials.
Stop spending thousands on training and re-training your technicians and specialists. Our online training modules give your staff all the tools and knowledge they need to be self-sustainable out in the field.
Each training module can be completed at your own pace. They feature instructional videos, quizzes, interactive slide decks, and more. All material is delivered in an easy to understand manner that can be mastered by your entire team.
Have questions? Our inside sales team is here to help!
941.328.3991 ex:7049