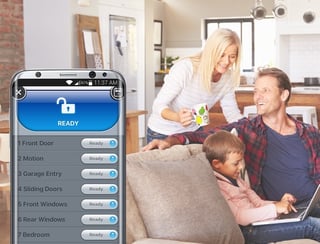 Our biggest release yet! Smart security and home automation are now bundled together in the perfect smart, secure, and simple platform. Easily pair and program wireless security systems and home automation devices in minutes. Security alarm monitoring and full-featured interactive services are also now available via Clare's Cloud Ecosystem.
Drive revenue, reduce acquisition costs, and prevent post-close take overs with the release of the ClareHome Security Platform.

Install Assist App Update: In version 5.3, Clare announced a new "on-site" App, named the Install Assist App. We are continuing to invest strongly in adding new features to this easy-to-use tool. The Install Assist update features support for the Resolution Helix security system – easily and quickly pair a complete security system in minutes with or without an internet connection! Additionally, Install Assist now supports Wi-Fi network connection making it the perfect tool for technicians to make configuration changes to the system once online. The Installer Tools update will be available in the app stores the week of May 8th.

Honeywell Lyric Driver Support: Included with the release of v5.4, Clare Controls now supports the Lyric T6 Pro Wi-Fi, Lyric T5 Wi-Fi, and the Lyric Round.