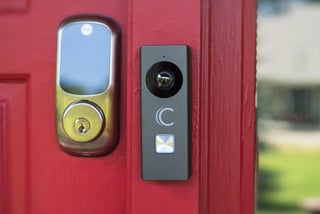 When looking at doorbell cameras, homeowners want something that is packed with features, is simple, and gives them total control. As a dealer, you're most likely looking for product margin, reliability, ease of installation, and more importantly: satisfied customers. Our award-winning Clare Video Doorbell brings the best of both worlds. Here are some features you might not have known about:
---
Check out our Clare Video Doorbell Unboxing by clicking here:
Watch Now

Motion Detection Settings: Check.
Our free ClareVision Plus App allows homeowners to adjust a wide range of settings including Motion Sensitivity and Area Detection. Simply fire up the App, select your doorbell header, and enable the notification settings to get started.
Upgradeable On-board Storage
Every Clare Video Doorbell includes a 16GB microSD card pre-installed for on-board video storage. If 16GB is not enough, you can easily upgrade up to 128GB in size. In addition, the Video Doorbell is compatible with a wide range of 3rd-party NVR's via ONVIF. The take-away:
No monthly fees or hidden charges

Upgradeable microSD up to 128GB

Compatibility with many existing NVR's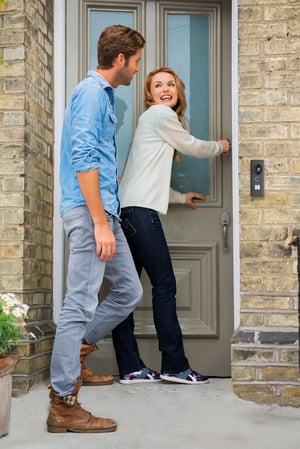 Two-Way Volume Control? Don't Miss A Word
The Clare Video Doorbell volume controls are adjustable. You can easily adjust volume settings guests hear, or what you hear on your end when speaking through a mobile device. Open the ClareVision Plus App, select the video doorbell header, and scroll down to the volume settings.
Simple Installation Using The Included Wedge & Spacer
Existing doorbell mounting screws can be reused without the need for any additional drilling using our included wedge or spacer. No more drilling, no more hassle, and no headache. You can have a doorbell installed and ready for initiation in under 5 minutes.
Adjust Video Quality On The Fly
You can increase or decrease the streaming quality of the Video Doorbell. Simply tap on the HD or SD button underneath the video window, and select your desired standard. Be aware that a higher quality will use more bandwidth. You can continue to answer the doorbell in low cellular signal areas (3G) even when using SD quality.
Make Digital Chimes Work
Included in each doorbell box is a diode for use on digital chimes. Install the diode on the leads of the chime to allow it to work properly. Simply wrap the ends of the diode around the terminals on the digital chime. Connecting the diode in the wrong direction will not cause harm to either device, your doorbell will just not ring properly. If this is the case, reverse the direction of the diode and verify proper installation by ringing the doorbell. Refer to the image below.
Important Note: Do not install the diode when connecting the Clare Video Doorbell to any mechanical chime.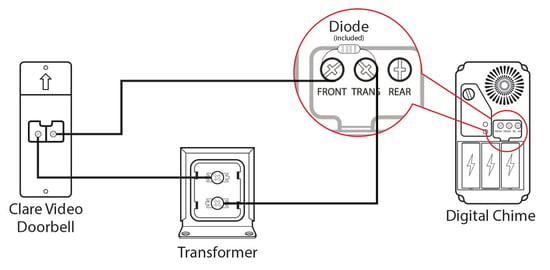 ---
Wish to know more? Our Inside Sales Team is here to help:
941.328.3991 ex:7049


Our Clare Video Doorbell Kits include everything you need for a quick and successful installation. To order your Video Doorbell, follow the link below.