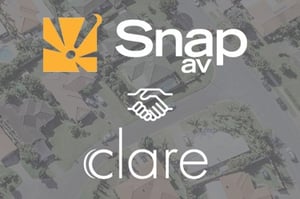 If you haven't heard yet, dealers may view Clare products on the SnapAV website now, and begin purchasing products as early as March 4th! There are several strategic benefits this new alliance has for dealers.
Dramatically increasing product availability
Integration to SnapAV's OvrC environment with Clare
Integration of several key SnapAV products with Clare
World-class shopping and shipping experience
Joint development of exciting new products and integrations

Who is SnapAV?
SnapAV was started in 2005 by installers just like you. As an industry leader, SnapAV manufactures and sells products directly to professionals, and only professionals.
The benefits of SnapAV include:
Access to SnapAV's Partner Rewards Programs
No restocking fees and advanced replacement programs
Free shipping for qualifying dealers
Convenient distribution centers ensure quick delivery
Free OvrC remote management
Unique partner-only promotions
A robust catalog of today's leading brands
Award-winning customer and technical support
A one-stop shop for all your install needs
In addition to our new alliance, we have been hard at work on new technological breakthroughs that we believe will impact the smart home and security industries significantly. More information is coming soon!
---
Not a SnapAV Dealer?
To purchase Clare products, you will need to set up an account with SnapAV. Start your application by signing up below.