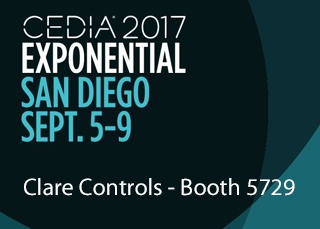 Clare Controls will be attending the CEDIA Tradeshow in San Diego, from September 7th through the 9th. CEDIA brings over 18,000 tech professionals and 500 exhibitors together annually, to showcase innovative technologies and breakthroughs that are revolutionizing the residential technologies industry.
Where Can I Find Clare Controls?
Clare's representatives will be at the PowerHouse Alliance Booth #5729. PowerHouse Alliance, with its top-level distributors, national market reach, and best-in-class service, continues to be a strategic distribution partner with Clare Controls, helping serve smart home and security dealers across the country. At the PowerHouse Alliance booth, you will see several of Clare's new product offerings, some of which include, dealer installer tools and ClareHome Features that help maintain Clare as the leading, Smart and Secure, smart home platform.
We are also excited to announce that Clare Control's CEO, Brett Price, will be speaking on a Panel Discussion for the Future of Interoperability: Convergence, Divergence, Or Parallel Paths. Price will talk about how shifting to the cloud is disrupting the competitive dynamics within the market and therefore, impacting the CEDIA Channel.
Clare Control's is committed to leading the market with our cloud-to-cloud integrations, transitioning away from cloud-to-local to cloud-to-cloud, seamlessly in the home automation and smart security segment. Come find us at the PowerHouse Alliance booth and see what future smart home and security integrations Clare Control's has in store.

Panel Discussion
Date: Thursday, September 7th
Time: 10:00am – 11:30am
Room: 33 AB
Session Type: CEDIA Training