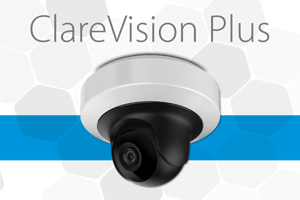 ClareVision Plus is Clare's cost-effective and comprehensive line of security cameras, NVRs, video doorbell, and more! Here are 5 reasons why Clare's video monitoring solution is right for you.
---
Not sure how to select the right camera for the job? View our blog here!
ClareVision Plus was designed for technicians and dealers who need a product that is simple, quick to install, and requires little configuration. ClareVision Plus cameras work over Clare's cloud network, allowing for quick camera setup, wireless streaming, and easy management of all your devices.
The ClareVision Plus Mobile App
Users can view live and recorded video footage using the FREE ClareVision Plus App. The standalone App can be accessed on both iOS and Android devices, and works with all ClareVision Plus cameras, NVRs, and the Clare Video Doorbell.
Notifications When It Matters Most
With ClareVision Plus, users can stay up-to-date with anything happening around their home with notifications. Receive notifications of motion, or when there is suspicious activity directly to your mobile device. Combined with the Clare Video Doorbell, users can speak with and hear guests who are at the door!
The Highest Level Of Quality
ClareVision Plus cameras feature professional level build materials that set the highest quality standard. Capture the finest level of detail with HD video. Clare's varifocal lens camera series takes the step further by offering stunning 4K quality recordings.
Full Warranty
We hold our cameras to the highest quality standards. For this reason, Clare offers a 3-year warranty on all ClareVision Plus cameras and NVRs!
On The Topic Of Network Video Recorders (NVR)
Clare offers a large lineup of NVRs that feature 4, 8, 16, 32, and 64 channels to cover any project you may run across. Additionally, many ClareVision Plus cameras support on-board Micro SD cards which can also be purchased directly from Clare.
Bonus Reason: No Monthly Fees
There are no monthly charges or fees to view or record video footage. All video is stored locally on either the NVR or Micro SD card if the camera supports it, and can be accessed at any time by the user.
Learn more about ClareVision Plus below:
Have questions? Our Inside Sales team is here to help!
941.328.3991 ex:7049