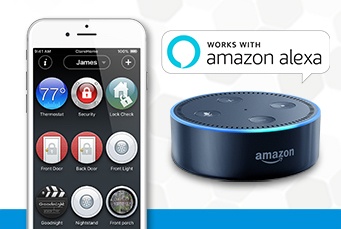 This Holiday, be sure to try out the Amazon Alexa integration with your ClareHome system. Use voice control to change lights, locks, thermostats, or even launch a goodnight scene!
---
Learn more about using Amazon Alexa and ClareHome by visiting www.clarecontrols.com/alexa or by downloading our Alexa Guide here.
Tell Alexa to shut down the house for bedtime, or turn off lights
Alexa easily discovers smart home devices already installed
Setting up Alexa with ClareHome only takes a minute
Use your Amazon Echo, Amazon Echo Dot, Echo Show, or any device with Alexa embedded, such as the Ecobee 4 thermostat
Alexa + ClareHome is easy to setup and can be done in a few minutes. Watch the video below to learn more on the capabilities and setup of ClareHome and Alexa.