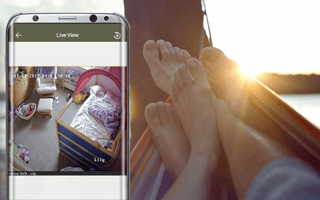 Our ClareVision Plus product line gives you a wide-assortment of camera types to fit your needs. From fixed lens to varifocal, we offer cameras that can withstand the weather outside, or cameras that are perfect for indoor use. Access crystal clear HD 1080p live and recorded video footage with no monthly fees. Our NVRs and SD cards provide a full range of recording options and configurations.
---
The ClareVision Plus product line is perfect for residential homes large and small. Our variety of cameras and NVRs can also be used in commercial settings.
ClareVision Plus Cameras

Fixed Lens
Varifocal Lens




Wide variety of camera styles starting at $99
Simple setup using the free ClareVision Plus App
1MP and 2MP cameras available





Dome, bullet, and PTZ styles
2MP and 4MP varifocal and motorized cameras
Ideal for long-range and wide-angle settings
---
Clare Video Doorbell




Includes wedge and spacer to simplify installation
True 1080p HD video with 180 viewing angle
Works with common 3rd party control systems such as Crestron and Control4
Enhanced motion detection - customizable from the ClareVision Plus App
Night time visibility at full 1080p resolution
Two-way communication through the ClareVision Plus App
---
ClareVision Plus NVRs and Storage

4 - 64 Channel NVRs
SD Cards




Simple plug and play - free remote access
NVRs include 1-10TB of expandable storage
4, 8, 16, 32 and 64 channel options available





Access recorded footage without an NVR
16, 32, 64, and 128 GB options
Most cameras support up to 128GB
---
Accessories

Camera Mounts
Accessories



Mounts for both fixed and varifocal cameras
Can be used on residential homes and commercial properties




PoE injectors simplify installation
Encoders can be used to support analog cameras using ClareVision Plus NVRs
---
Want to learn more about the ClareVision Plus App?