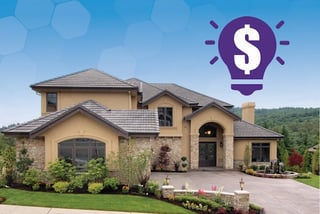 Smart home automation is a great way to increase the value of a home. Many homebuyers today look for smart, automated home options when considering purchasing a new home. Smart home features not only makes living more simple and convenient, but also increases the resale value of your home.

Here's a look at 4 ways that automation creates value in new homes:
1. Home Security
With an estimated 2 million home break-ins and burglaries reported each year in the United States, home security is extremely important to home buyers. A solid, automated home security system adds value by eliminating the need for new buyers to provide their own systems or pay hefty wiring and setup fees with a security company.
Automated home security systems, like those offered by Clare Controls, are great for adding value to a home. With features like automatic door locks, ClareVision Plus security cameras, alarm systems, and more, Clare Controls secures your home and simplifies security with the Clarehome App that offers access to your home's safety and security features, wherever you are.
Adding automated home security features increases a home's value by making safety and security easily accessible and available to potential home buyers.
2. Energy Management
Other smart home features that are great for increasing a home's value are energy efficient products. A good smart home system can potentially save a homeowner hundreds or thousands of dollars in utility bills per year. Many home buyers search for ways to cut costs on electricity, heating and air conditioning, and water usage. Smart home automation manages energy, prevents costly waste, and is an excellent way to create value in a home.
Clare Controls offers a suite of automated energy efficient solutions to create value in any home. With the ClareHome smartphone app, energy efficiency has never been simpler. Set thermostat schedules, automate lights, and control energy usage based on sunrise and sunset schedules.
3. Entertainment
With home automation, all your entertainment systems can be integrated to provide a seamless experience. Televisions, surround sound systems, streaming devices, music, and more, all controlled with a single smartphone app.
Smart home automation makes entertainment entertaining and relaxing. With the ClareHome app, set lights, music volume, and turn on the fireplace for a romantic evening in. Or, set the perfect mood by turning on a movie time scene with the touch of a button.
Smart home automation allows for complete control of entertainment systems throughout your home, making life more relaxing and comfortable, and adding value to your home.
4. Convenience
The convenience of smart home automation systems is apparent. However, not all smart home automation systems are convenient to purchase or install. Because of this, new home buyers are searching for homes with smart home features already built-in, eliminating the need to purchase, install, and program their own systems.
Integrating smart home automation increases your home's value because potential buyers won't have to worry about automation system integration themselves.
With Clare Controls, security, convenience, and ease of use, meet to provide the perfect smart home solutions for you. Luxury smart home features are now available for everyone in a blend of professional installations and DIY-style additions. Adding smart home automation has never been simpler or more affordable, and it's a great way to increase your home's value.
Contact us today to learn more about implementing Clare Controls smart home systems in your home.