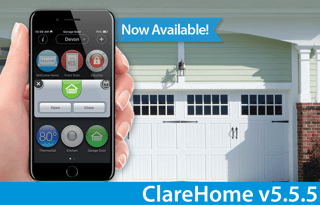 Updates will start rolling out on January 9th, 2018, and may take up to a week.
Authorize your Chamberlain or LiftMaster MyQ-enabled garage door to work with your ClareHome system! Here are the steps to get started with creating an account, authorizing your subscription, and adding the MyQ garage door to your ClareHome system.
Activating your LiftMaster or Chamberlain MyQ device gives you total control of your garage on the most powerful, award winning app - the ClareHome App.




Open and close your garage with a single tap

Create custom scenes that close the garage

Status icons show if the garage is opened or closed

Notifications alert you if the garage has been opened
To get started, follow the steps below to activate your MyQ service for ClareHome. You will need a valid MyQ account and hardware.

STEP 1:

Create a MyQ account.
If you already have an account, proceed to Step 2.

STEP 2:

Subscribe to the MyQ service by clicking here:




IMPORTANT NOTICE: Chamberlain charges a $1/month or $10/year fee for enabling MyQ in your ClareHome system. MyQ controls cannot be used in schedules, and can only be used in scenes that close the garage door at this time.

STEP 3:

Add Chamberlain MyQ to your ClareHome System


1. First, tap the Plus icon in the top-right corner
2. Access the ClareHome App's Configure Menu, tap Devices
2. Tap the blue Plus icon and select Access
3. Tap Chamberlain - MyQ Garage Door and follow the initiation steps
4. To add the garage door control to your space, tap the Plus icon from the menu, select access, and tap the green Plus icon next to your garage door opener

NOTE: You wil not see the Chamberlain MyQ settings until your system has been updated.
---
Have questions? ClareCare is here to help! Contact us below:
US: 941.315.2273
Canada: 844.360.4816
Email: help@clarecontrols.com
Monday through Friday – 8 am to 10 pm EST
Saturday – 10 am to 7 pm EST