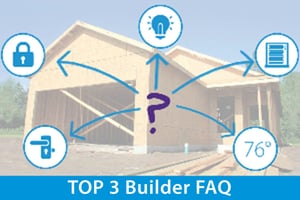 Homebuyers are asking for smart home; now is the time for builders to offer it. According to BDX Research, "76% of home buyers believe brand new homes should have smart home technology". Clare sits at the forefront of this smart revolution, and we're giving builders a solution that raises the bar.
Unfortunately, the smart home industry is not as simple as one would think. Packed within this growing market are technologies like Z-Wave, Zigbee, Insteon, Bluetooth, Wi-Fi, and more. In addition, there are thousands of smart devices with many more coming out each week. The big residing problem is that many of them don't play nice together. Even questions like, "Which type of smart lock or thermostat is the right choice for my customers?", are prominent.
At Clare, we're integrating the devices and features that matter most to your customers under a single, scalable, and reliable platform. We're in the business of making smart home simple and affordable for everyone.
Did you know that 75% of new homebuyers believe a brand new home with smart technology could be a tie-breaker?
We've collected 3 of the most frequently asked questions about smart home from the builders we work with around the country. We're showing you how Clare fits into the smart home equation. Click the download button below to read them now.
---
Take your future a step further by downloading our builder playbook below to get a play-by-play on how Clare can help propel your builder business past the competition.