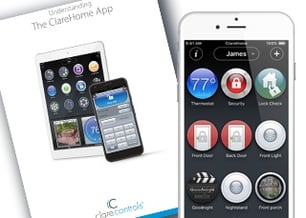 Available for iOS and Android, the ClareHome App puts personalized control of your smart home at your fingertips.

Know when a visitor is at your front door, or get the kids ready for bed by running your Goodnight Scene to wind down for the night. Learn more about how to use the ClareHome App including advanced features and settings, by downloading our ClareHome App Guide.
This helpful tool explains the App's key features, settings, and general use. The ClareHome App guide is available for download from the Clare Controls website and available in print form upon request.