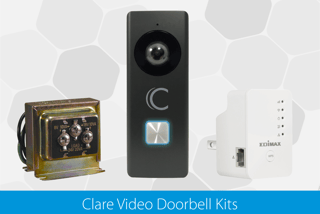 Every project is unique and carries its own challenges. The most common challenge experienced by Video Doorbell installers is a weak Wi-Fi signal near the install location. The second issue, less common than Wi-Fi, is a transformer that could be weak or defective. To assist our installers in the field, we are releasing Video Doorbell kits to ensure every installer saves time and avoids additional truck rolls.
The Wi-Fi Kit is designed for projects where the video doorbell does not have enough signal strength or is out of range of the homes Wi-Fi. This kit is suggested for newer homes where the transformer is less of a concern. For situations where the doorbell transformer is old or potentially defective, we have introduced the Plus Kit.The Plus Kit includes a Wi-Fi Range Extender and Transformer to ensure you have a seamless install in those older retro installations.
Plus Kit
CVP-B2DB50-PLUSKIT

Wi-Fi Kit
CVP-B2DB50-WIFIKIT


Included in this kit:

Clare Video Doorbell

Wi-Fi Range Extender

Transformer


Included in this kit:

Clare Video Doorbell

Wi-Fi Range Extender


---
You can purchase the Wi-Fi Range Extender and Transformers as a separate item.
Wi-Fi Range Extender
EW-7438RPn




Extends Wi-Fi range of 802.11b/g/n networks
Simple setup and configuration
Signal strength LED
Hardware WPS button
Automatic network detection

Doorbell Transformer 8/16/24
SL-125-02




8/16/24 VAC output
Can power the Clare Video Doorbell
Wired, low-voltage design
Works with any wired doorbell chime
3 standard clamp-on output
Wish to know more? Visit our Clare Controls Knowledge Base for additional resources, technical documentations, how-to's and much more!