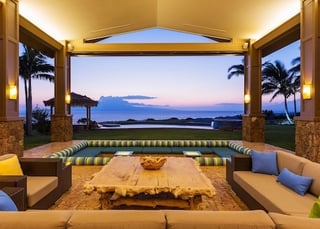 Adopting smart home lighting automation in your home will make your daily routines seamless. From waking up in the morning, to coming home from work late, or making sure your kids get to bed at a decent hour, smart lighting provides comfort that's personalized to your routines.
Related Blog: 4 Smart Home Flood Detection Tips To Avoid Water Damage Expenses

Here are the top 7 security concerns that smart home automation can help you with:
1. Replace Your Audio Alarm With Light
Is your spouse sensitive to sounds? Don't worry about waking them with a loud alarm. Customize your lights to turn on gradually for a gentle wakeup. Never hear that obnoxious beeping again.
2. Automatically Brighten The Porch At Sunset
It's the middle of the night, you're comfortably dozing off to sleep when you're hit with the thought - did I turn on the porch light? It's time to let your home take care of itself. With Clare, your home can follow routines you already have in place, such as automatically turning on the porch light at sunset, and turning them off when the sun rises. So enjoy your sleep - it's taken care of!
3. Your Lights Can Help Get Your Kids Off To Bed At Night
Are the kids getting ready for bed? Don't worry about checking anymore. Customize your home to automatically dim your kid's lights at a specific time every night. Now you don't have to worry about rushing to get them to bed.
4. Your Lights Can Welcome You Home
Getting home from work after sundown? Don't worry about a dark walkway. Customize your lights at home to automatically turn on and welcome you home. Don't worry about nighttime navigating anymore.
5. Turn All Your Lights On With A Single Tap To Illuminate Your Home
What was that sound? Don't worry about suspicious sounds in the middle of the night anymore. Customize all of your lights to turn on and illuminate your home at the press of a button. Never be afraid of the dark again.
6. Your Child's Bedroom Lamp Can Become The Perfect Nightlight
Is your child's nightlight accessible? Don't worry about your child being in the dark for a minute. Customize their bedroom lamp to automatically dim the lamp with a button press. Don't worry about your child fumbling to adjust their nightlight in the dark.
7. You Can Turn Your Christmas Lights Into Smart Lights
Your Christmas Lights can become smart with plug-in dimmers or switches! No longer will you have to reach difficult to access outlets behind the Christmas tree, when you can turn the lights on through your phone. Out of town for the holidays? Make it look like you are home to prevent intruders by having the lights follow a Scene. Or create a custom schedule that will turn the lights off when you leave for work, and on when the sun goes down.
---