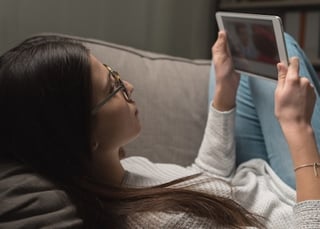 Automation for your smart home entertainment system will give you the security that you need with the comfort and ease that you desire. From the time you leave your home for work or socializing, to settling in at home after dinner with the family, your smart home automation controls your surroundings exactly the way you like and monitors for unwanted activity.
Related Blog: 7 Security Concerns that Smart Home Automation Helps You With

Learn about 4 great benefits of making your home a smart home with entertainment, electronics, and relaxation.

1. Your pool gate can let you know if someone is in the pool
Place a sensor on your pool gate
Receive a text, push notification, or email when the gate is opened
Prevent unwanted access to the pool
Customize your home to send you an alert when your pool gate is opened. Don't guess or have suspicion, know exactly if and when the pool gate opens.
2. Easily take control of your children's "screen time"
Manage your child's screen time even when you're not there
Dedicate more time to homework
Automatically turn off video game consoles or TVs at a predetermined time
Does your teen skip homework time? Don't worry about your kid's gaming habits. Customize their electronics to turn off at a specific time. No need to have that "just one more level" conversation.
3. Relax in your favorite space
Destress with a single touch of a button
Be happier and healthier at home
Instantly adjust the temperature, lighting, and music to your "relax" mode
Had a stressful day at work? Create a relaxing scene to turn down the lights, adjust your thermostat, and play your favorite relaxing sounds with the push of a button. Get comfy and prepare to wind down
4. A single tap that puts your whole home 'to bed'
Smart lights, door locks, and thermostats can automate your nightly routine
Just tap the "goodnight" button
Turn off the lights, dim any nightlights, lock the doors, and sets the temperature to your liking
Did I lock the doors before bed and turn down the temperature? You no longer need to worry as your home can do it all for you. Create a custom "goodnight" button and your smart home will turn off the lights, lock the doors, and turn down the temperature to give you the best worry-free sleep! Get to bed on time and relaxed.
---