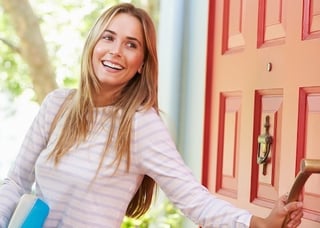 Smart homes provide the ultimate solution in home security and ease of mind when it comes to your family and your home. Whether you are restless and forgetful with your nightly routine or have a family constantly on the move, you now have the solution in the palm of your hand.
Related Blog: 4 Smart Home Flood Detection Tips To Avoid Water Damage Expenses
Here are the top 7 security concerns that smart home automation can help you with:
1. Custom schedules can help secure your home
Can't remember if you locked the doors before bed? Don't worry about checking anymore, customize your home to automatically lock at specific times; weeknights at say 10pm, and weekends at 11pm. Schedule key interior lights and your porch light to go on at sunset. Or when you're on your way home from work create a warm, inviting environment to come home to. Have the A/C set to your ideal temperature and your favorite music playing when you walk in the door.
2. You can lock your door and close the garage with a single tap
Did you lock the house up before you left? Don't worry about your garage or front and back doors anymore. Say "goodbye" to your house with a single tap. Customize your home to automatically close the garage and lock the doors. With smart home security you'll know whether your garage is open or closed by checking the app.
3. Create virtual spare keys with smart door locks
Stop carrying keys or handing out copies to the kids, guests, and sitters. Assign each person a special code that you can activate and deactivate access to whenever you want. Customize your home to lock and unlock with unique codes. Never be embarrassed by your neighbors seeing you break into your own home again.
4. Your doors can lock up for you at night
Did you lock the front door? Don't worry about checking anymore. Customize your home to automatically lock your doors at a specific time or based on your routines every night. Don't lose sleep or get out of bed, know that your doors are securely locked.

5. Make sure your car doesn't leave the garage when it's not supposed to
Worried about your teen using the car? Don't worry if the car is in the garage. Customize your home to automatically send you a notification when the garage is opened. Keep your family and your car safe.
6. Your garage door can close itself to protect against unwanted nocturnal pests
Did I close the garage after bringing up my garbage cans? With an Add-on device to your garage door opener, Schedule your garage door to close at dusk every night. Customize it to suit your schedule so you can stop getting up to check on things when you just want to sleep.
7. You can let family members or guests into your home from anywhere
Who is going to get home first - you from work or the kids from school? What if you get stuck in traffic? Never worry about being locked out again. Unlock your door from anywhere and provide access to family members, friends, or guests whenever you want. Customize your home to unlock the front door with the push of a button.