To kick off this new year, we have releasing an important update that improves performance, adds several new features designed to enhance the the end user and dealer experience, added several FusionPro improvements, as well as introducing new drivers and integrations for shade controls, door locks, and lighting, as well as several important bug fixes.
Latest Firmware Versions
ClareOne:
Software Version: v2.1.11
Image Version: v2.1.0.6
ClareHome Version: v9.3.7
Auxiliary Touchpanel: v7.3.3
IMPORTANT NOTE: This update will disable chimes from playing when using a Control4 system with ClareOne. Dealers will need to open the zone properties for all zones that are affected by this change and check the 'Chimes' checkbox to enable chimes.
Once a new driver is made available, dealers may need to re-enable the chimes once again.
---
New Product Announcement: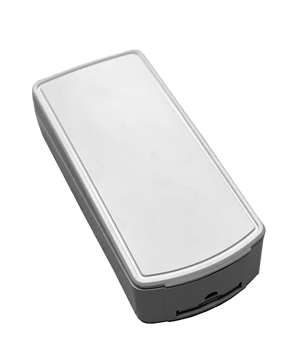 ClareOne High/Low Temperature Sensor
This update additionally includes support for the upcoming ClareOne High/Low Temperature Sensor (CLR-C1-HLT). The sensor is designed to alert once a high (100° F) and/or low temperature (40° F) threshold is exceeded. The sensor includes support for supervisory, tamper, and low battery alerts.
Related Articles:
ClareOne High/Low Temperature Sensor Datasheet
ClareOne High/Low Temperature Sensor Installation Sheet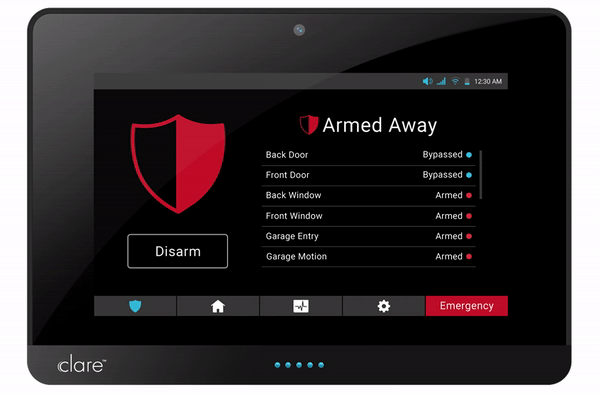 Redesigned ClareOne Pulldown Menu:
The pulldown menu in the ClareOne Panel has been updated to provide more information on the Wi-Fi connection signal strength, LTE connection status, as well as simplifying access to settings such as global voice and chime control, volume, and screen brightness.


Custom Voice Functions:
The ClareOne panel now supports custom voice annunciations. You can now name a zone from the panel through an easy-to-use on-screen keyboard and the ClareOne panel will automatically update with the proper audio file for that zone name. Look for other custom voice annunciation features in future releases.


Enhanced End User Settings:
Based on dealer feedback, we have expanded End-User panel configuration settings. Users can now configure voice settings, chime settings, perform sound tests, see sensor signal strength, and update new custom voice files.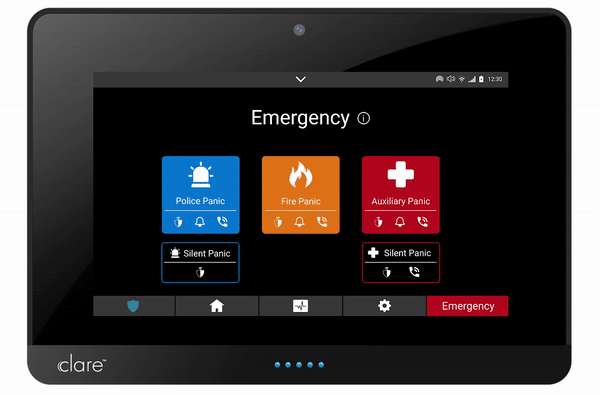 Improved Emergency Page:
We have improved the Emergency page to include additional information for the user explaining precisely what will happen when an emergency button is pressed based on the configured panel settings.


Multilanguage Support:
Multilanguage support is expanded in this release with Canadian French and Spanish support in the ClareOne panel and the Auxiliary Touchpanel. Additionally, custom voice annunciations are also supported in Multilanguage.



Stealthy Silent Panic Alarms:
Silent panic alarms are now truly silent. In the event that a panic alarm is activated, no audible or visual indication will be displayed on the ClareOne Panel.


Improved Siren Alerts:
We have improved Siren Alert logic. The siren will now sound an alarm even after it had previously timed out if another sensor is tripped.
If an alarm siren times out, the siren will sound again if another zone is tripped.
The ClareOne panel will sound a siren for each alarm tripped while in alarm state.

Change Primary Users:
Company administrators can now change the primary user for an account in FusionPro. This will allow setting up new primary and secondary users, emergency contacts, and updating the monitoring services if monitoring is active.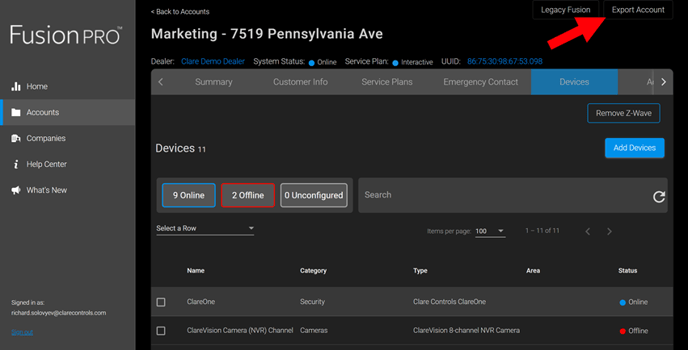 Export Account Details as PDF:
We have added the ability to export a PDF summary of the customers account which will include all relevant information the dealer will need when setting up monitoring with a central station.


'Add Device' Auto-discovery Control:
We have added the ability to turn on and off the auto-discovery feature for supported auto-discovery devices. When adding a new device, you will now be presented with the option to enable auto-discovery for this device type.
Sonos
Heos
Deako
Aprilaire
Lutron Caseta and RA2 Select Shades
Phillips Hue

Camera Setup:
Cameras can now be added using the IP address in addition to auto-discovery.


General Improvements:
We have added a couple of general improvements to make our dealers lives easier when working in FusionPro. This includes:
Combining Line Card field and Receiver Number into a single field.
Added a selection list for quickly viewing all accounts under a specific sub-dealer.
Changed the style and name of the Alarm Reporting Number field to Central Station.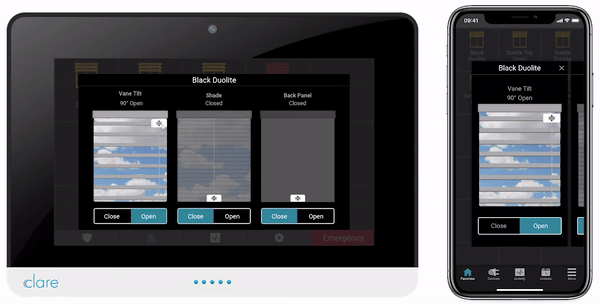 View Device Drivers and Integrations Database

New Supported Shade Drivers:
We have added support for seven different shade brands, allowing users to control the open and close status, vane tilt, and even back panels. The shade control tiles have also been redesigned to not only show the new controls, but also display a unique "outdoor view" graphic that will change based on the time of day. Users can include their shades in custom scenes, schedules, and automations. Here is a list of all new supported shades:

New Supported Door Lock Drivers:
Haven Connect (Z-Wave version) is now supported, allowing you to control your home access remotely, as well as include the door lock as part of your scene, schedule, automation, or set up custom notifications.

New Supported Lighting Drivers:
By popular demand, Phillips Hue and Lutron Caseta and RA2 lighting is now supported by ClareOne. Adjust your lighting automatically with the use of automations or scenes to set the perfect ambiance. Or create a custom schedule to make sure the lights are out by the time your family goes to sleep.
Lutron - Caseta and RA2 Select



Added significant reliability improvements, including automatic recovery from unresponsive panels/lockups.
Made improvements to ClareHome App sign-in and connectivity.
---
Resolved Issues and Engineering Notes


Issue
Description/Resolution
CLO-4409

Symptom

Panel Tamper - Displays as Tamper on the panel but Intrusion Alarm on apps.

Status

Fix alarm type being sent to app from the panel.

CLO-4501

Symptom

ClareOne panel not updating camera IP when the ClareHome device changes IP

Status

Resolved.

CLO-4339

Symptom

Alarm Priority Display and Send to ClareHome.

Status

Fixed alarm priority when sending to ClareOne App, related to multiple alarm support.

IN-674,
IN-728

Symptom

Ecobee - in some scenarios, Ecobee would go offline and remain offline until Clarehome was restarted

Status

Ecobee should automatically reconnect if it goes offline without requiring ClareHome restart.

CLO-4493

Symptom

Some c4 chime settings stopped working due to a change in zone profile reporting on the panel.

Status

Resolved with C4 driver.

N/A

Symptom

Fixes times where the browser is not signed out when the websocket connection is lost and the inability to sign back in using email until you refresh the page.

Status

Idle sessions will now last for 30 minutes past the last action performed. Sessions will close if the device goes into deep sleep.

N/A

Status

Fixed the redirect from OvrC when the user is not signed into FusionPro
DAP-1679

Symptom

Able to add duplicate Music tile.

Status

The user can no longer add the Music tile more than once.

DAP-1720
(Android Only)

Symptom

Can't load camera smart icon in Favorites page.

Status

Smart icons correctly load in favorites page.

DAP-980

Symptom

Devices - Security should not have remove device button in edit.

Status

You can no longer select remove security in devices page.

DAP-1723

Symptom

Schedules list is sorted different between iOS and Android.

Status

iOS and Android now short schedules the same.

DAP-1792
(Android Only)

Symptom

Android Native Back (Swipe Gesture) During Video Popover Backgrounds App and Returns to Home Screen.

Status

Android native back swipe gesture no longer backgrounds app, but it closes popover.

AIT-834

Symptom

Video snapshots seem to never update.

Status

Video camera snapshots on favorites page now update after viewing the video. This was implemented for ATP, iOS, and Android apps as well.

AIT-821

Symptom

UI - Tapping Police Silent Panic should return to the Security Page - for CH that have silent panic to be truly silent.

Status

ATP now handles Silent Panic as truly silent; is backwards compatible
Last Updated: 12/29/2021