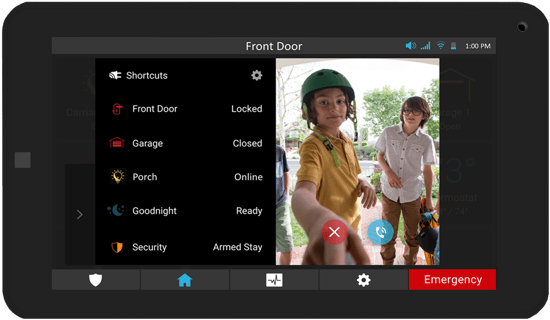 A new update has been released for the Auxiliary Touchpanel (CLR-C1-ATP) as part of the Clare Winter Update. This update adds several new features, performance improvements, and bug fixes.
Latest Firmware Versions
Auxiliary Touchpanel: v7.3.3

Music Popover Screen
We have updated the music popover screen to now show a group volume slider for supported audio devices. Some audio controls will be disabled if the selected device does not support them. Additionally, device category names have been updated to be more descriptive.

Shades Control Tiles and Popover Icons
We have added shade control tiles and popover screens to the Auxiliary Touchpanel to support the new shade drivers recently announced as part of the Clare Winter Update. Users can manually control the open and close settings for their shades, as well as add them to custom scenes, schedules, and even automations. Supported shades include:
Multilanguage Support:
Multilanguage support is expanded in this release with Canadian French and Spanish support in the Auxiliary Touchpanel. Additionally, custom voice annunciations are also supported in Multilanguage. Language settings can be configured in the setup Wizard or in Settings.
Camera Popover Screen
The Quick Access Tool Tray is now available on the Auxiliary Touchpanel to allow end users to quickly access pre-canned responses (Video Doorbell Only), as well as control devices such as door locks and scenes all while viewing a live video feed from their Video Doorbell or camera.
Improved Activity Log
The Activity Log page has been improved with an added Search field. This will allow end users to quickly find relevant events in their activity log. The layout for displayed events has also been modified to display more information for each event.
General Improvements
Additionally, we have added several general improvements to the user interface, as well as bug fixes and performance enhancements listed below.
Favorite tile names can now span two rows for longer device names.
Add tile screen - Change layout to show more of the device name for longer device names.
Updated look for informational popovers.
Prevent user from being able to add duplicate favorite tiles on the favorites page.
Minor app color changes to increase contrast throughout the app.
Update Device Category Names when on the Add Device screen to be more descriptive.
---
Resolved Issues and Engineering Notes
ClareOne Auxiliary Touchpanel:


Issue

Description/Resolution

AIT-799

Symptom

Action buttons on bottom of screen become nonresponsive sometimes after reconnecting to ClareHome.

Status

Action buttons will always become enabled again after reconnecting to ClareHome.

AIT-834

Symptom

Video snapshots might not update.

Status

Video camera snapshots on favorites page now update after viewing the video.

AIT-821

Symptom

Tapping Police Silent Panic should return to the Security Page - for CH that have silent panic to be truly silent.

Status

The Touchpanel now handles Silent Panic as truly silent.

DAP-1679

Symptom

Able to add duplicate Music tile.

Status

The user can no longer add the Music tile more than once.

DAP-1720
(Android Only)

Symptom

Can't load camera smart icon in Favorites page.

Status

Smart icons correctly load in favorites page.

DAP-1425

Symptom

PIN entries show in blue when disarming an alarmed panel.

Status

PIN entries show in white when disarming an alarmed panel.




Last Updated: 01/12/2022