The Clare Video Doorbell v3 (CVP-B3DB50-ODIW) is the newest camera in the ClareVision Plus (CVP) line. Capture important details with the 3 MP image resolution. The camera includes enhanced night vision with IR up to 16 ft, and 180° vertical x 105° horizontal field of view. The CVD v3 has reduced false recordings due to its PIR motion detection (the v2 used pixel changes). The built-in microphone and speaker allows the homeowner to speak with their guests in
crystal-clear two way audio and outside noise cancellation.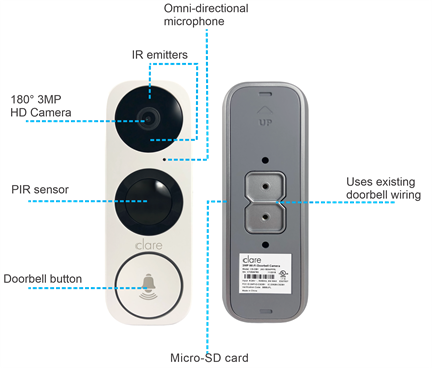 New doorbell camera features
PIR motion detect
The CVP v3 uses PIR to detect motion. PIR uses heat to makes motion detection more accurate.
Fisheye view


The CVD v3 has a vertical view of 180° and a horizontal view of 105°. This gives the stream a fisheye view.

This is intentional as it allows a homeowner a more secure view of their front door, from top to bottom aiding in package protection. The homeowner can now see from the ceiling to the floor, preventing anything escaping the camera's view.

Digital chimes
The CVD v3 supports digital chimes in addition to mechanical and no chime options.
Clare Video Doorbell v3 and v2 comparison
The Clare Video Doorbell v3 and v2 have some big differences. The v3 has new and improved features, increased reliability, and a sleek new look.
Feature
Clare Video Doorbell v3
Clare Video Doorbell v2

Motion Detection

PIR Motion Detection

Motion detection uses PIR and detects heat signature changes. This is more accurate and less likely to send false alerts.

Video Motion Detection

Motion detection is based solely on pixels being altered in the camera stream, the change in the video.
Voltage Range

The doorbells operating voltage range is 10VAC to 24VAC and has a max power draw of 5 watts.

Recommended usage with 12 volts or better.

The doorbells operating voltage range is 15.5VAC to 28.5VAC and has a max power draw of 5 watts.

Sensor

Starlight 3MP HD Camera

The starlight sensor allows for the camera to keep color in the stream under low light conditions.

CMOS 2MP HD Colorful Camera

Wi-Fi Range

The v3 can be connected to either a 2.4GHz or a 5GHz Wi-Fi network.

When used with CVP app, the v3 device settings displays the doorbell's network signal.

The v2 works with only a 2.4GHz Wi-Fi network.

Chime Support
The CVD v3 supports mechanical, digital, and no chime options.
The CVD v2 works with most mechanical doorbell chimes.
Field of View

The CVD v3 has a vertical view of 180° and a horizontal view of 105°. This gives the stream a fisheye view.

This is intentional as it allows a homeowner a more secure view of their front door, from top to bottom aiding in package protection. The homeowner can now see from the ceiling to the floor, preventing anything escaping the camera's view.

180°
See Doorbell v3 Standard Installation >
Related Articles:
Clare Video Doorbell v3 Advanced Setup
Clare Video Doorbell v3 Installation and User Guide
Using a Clare Video Doorbell v3 with a ClareVision Plus or Legacy NVR Tech Bulletin (DOC ID 1925)
Using ClareVision Doorbells with Luma NVRs Tech Bulletin (DOC ID 1920)
Using Luma Cameras with ClareHome Tech Bulletin (DOC ID 1921)
ClareVision Plus NVRs and Luma 110 and 300 Series Cameras Tech Bulletin (DOC ID 1922)
Clare Video Doorbell v2 Advanced Setup