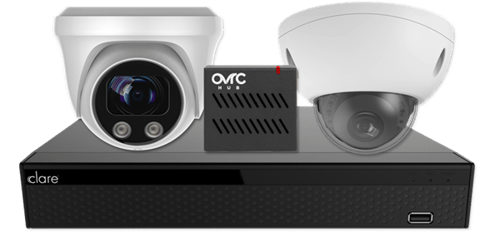 Your New Partner Promotion Kit comes with everything you need to fully experience ClareVision and OvrC! Please follow the instructions below on how to set up your kit.
Step 1: Install and Configure Your ClareVision NVR
Start by installing your ClareVision NVR and cameras. You will need to connect the cameras to the NVR and note the UUID which can be found on the bottom of the NVR, back of the installation manual, or on the product box.
IMPORTANT NOTE: The default password for NVRs and Cameras is the FIRST SIX CHARACTERS of the UUID.
If you have never installed a ClareVision NVR, check out our handy how-to videos below.
How to set up and configure a ClareVision NVR.
How to configure ClareVision cameras on the NVR.
Related Articles:
How to set up a ClareVision NVR
How to set up ClareVision cameras on a ClareVision NVR


---
Step 2: Configure Your Smart Events and Recording Schedule!
Your Performance Series ClareVision cameras are capable of some advanced detection techniques such as human body detection, line crossing, loitering, intrusion, and more. Let's get those Smart Events configured.
By default, your NVR is set to record 24/7. You can set adjust your recording schedule to only record if motion is detected or smart event triggered. For instructions on how to do this, check out our related article below.
How to configure Smart Events
Related Articles:
How do I configure Smart Events like Human Body Detection on ClareVision cameras and NVRs
Understanding Record Schedule vs. Arming Schedule


---
Step 3: Set Up the ClareVision App
Next, download and install the ClareVision App for your Apple iOS or Android store. Once your have the app installed and downloaded, add the NVR to the app by following the steps below.
---
Step 4: Configure OvrC Hub and OvrC Account
For complete setup instructions on how to set up and configure your OvrC Hub, please follow the instructions outlined HERE:
The OvrC Hub will allow you to remotely connect to the NVR Web Console to perform remote management of the NVR and cameras, as well as troubleshooting and management of other compatible devices found on your network!

Download OvrC Account and Hub Setup Instructions