CLR-C1-PNC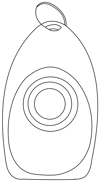 Part number: CLR-C1-PNC
Description
The ClareOne Panic Pendant(Keyfob) is a lithium battery operated wireless handheld panic device for the ClareOne Panel system. When the button is pressed, a wireless signal is sent to the panel, setting the panel to Panic.
Notes
The ClareOne Panel must be monitored for the panel's panic state to be received at a call station.
Non-supervised sensors should be tested once a week, ensuring proper function.
Important safety instructions
Before you program this sensor, be sure to:
Read, keep, and follow all instructions.
When there is a low battery, replace with a compatible lithium ion battery within 7 days.
Setup
Use the ClareOne panel to add the panic pendant.
To add the pedant to the panel:
Add the sensor to the panel. See "Sensor Management." ClareOne User Guide (DOC ID 1871).
Once added, test the sensor.
Look at the ClareOne panel, and then press the panic button.
Notice that the panel enters an alarmed state.
Note: Testing all sensors to the alarm monitoring station is strongly advised.
Button function
The pendant has 1 button. Once the pendant is added to the panel, double-pressing the button sends a wireless alert to the panel. This alert sets the panel to Panic. If the ClareOne Panel has a monitoring service, the alarm monitoring station is notified.
Battery replacement
The ClareOne Panic Pendant requires a CR2032 battery. When the battery is low, the panel displays a low battery icon next to the sensor in the devices list. The battery must be replaced within 7 days of the first low battery notification. If the battery is not replaced within 7 days, the sensor may not function properly.
Note: Regular battery maintenance is important, see your battery manufacturer for recommended battery replacement frequency.
WARNING: If an incompatible replacement battery is used, or the battery is installed incorrectly explosion or damages may occur.
AVERTISSEMENT: Si une batterie de remplacement incompatible est utilisée ou si la batterie est installée de manière incorrecte, une explosion ou des dommages peuvent survenir.
To replace the battery:
Note: Verify that the panel is not armed before changing the battery.
Hold the panic pendant firmly in one hand.
Slide both thumbnails in the side indent, and then pull the sides away from each other.


Note: The keyring keeps the 2 pendant pieces connected.


Use a fingernail/fingertip to push the battery out of the casing, noting the polarity of the battery.
Slide a new CR2032 battery into the battery casing, making sure that the polarity is correct.
Press the pendant backplate into place.
Test the sensor.
Specifications
Compatible panel

ClareOne

Transmitter frequency

433MHz

Encrypted

Yes

Transmitter indications

Low battery

Visual indications

LED light

Battery type

CR2032

Battery life

4 to 5 years

Operating environment Temperature
Relative humidity


32 to 120°F (0 to 49°C)
95% non-condensing

Dimensions

2.25 × 1.25 in.
(57.15 × 32.75 mm)

Water resistant

No

Certifications

FCC: 15.109 Class B 15.231, Industry Canada: ICES-003, RSS-210, ETL listed to UL-1023 and ULC-C1023
Full PDF - ClareOne Panic Pendant Installation Sheet (DOC ID 1926)