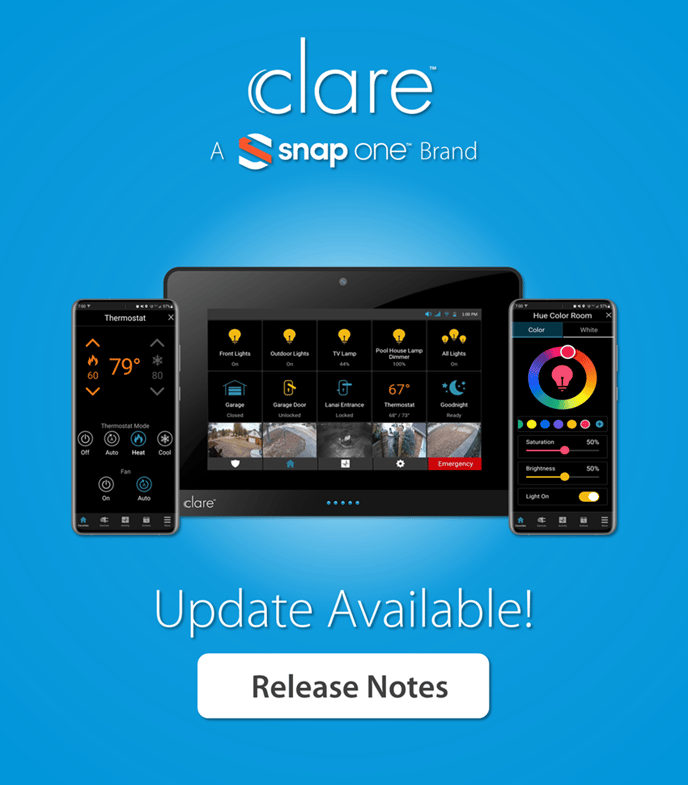 About This Update
We are excited to announce the release of our latest update, which brings a host of new features and improvements to the ClareOne Panel, ClareHome App, and FusionPro. We have listened to your feedback and worked tirelessly to deliver a better, more streamlined experience that meets your needs and the needs of the end user.
In this release, you will find enhancements that improve the overall usability, performance, and security of ClareOne, ClareHome App, and FusionPro. Additionally, we have introduced new capabilities and drivers. The update also features new market enablers for property managers and small businesses with the release of the Rapid Move-in/Move-out process, allowing them to pursue additional business opportunities. Read below to learn more.
We are confident you will love the changes we have made, and we look forward to hearing your feedback. Thank you!
---

New Market Opportunities:
Rapid User Move-in and Move-out Feature:
ClareOne capabilities and features are expanding, allowing Partners, property managers, and small businesses to pursue additional business opportunities with multi-dwelling units, rentals, dorms, and condos. With this update, Partners will be able to designate additional roles in FusionPro that allow them to manage vacancies, system administration, and quickly move-in and move-out users through a new Move-in/Move-out wizard that guides them step-by-step through the entire process.

Once a user has been moved out, the Account status becomes vacant and is displayed as such on your FusionPro Accounts page until a new user has been moved-in.
Additional Company Roles in FusionPro:
To support the new Rapid User Move-in/Move-Out feature, additional staff roles are available in your company profile allowing you to assign Property Manager Coordinator and Property Administrator Roles.
Property Manager Coordinator: Standard property management role that allows the staff member to manage properties, view available vacancies using new Account Filter options, move-in and move-out users, and set up a ClareOne system without specifying a Primary Contact.
Property Administrator: This high-level role features the same capabilities as the Property Manager Coordinator role, with the added ability to add, remove, and manage staff, and change the Primary Contact for an Account. Property Administrators can also create new Accounts without specifying a Primary User, which is important in situations where a residency might have revolving occupants and a Primary Contact is not applicable.
---
For End Users and Small Businesses:
Additional ClareOne User Types:
Additional user types with arm and disarm restrictions are now available on the ClareOne Panel. By default, all new users are assigned as "Permanent Users" The ClareOne Master User can add additional users and restrict their access by defining the user as "Temporary" or "Recurring". They can also assign a specific name to each user.
Permanent User: This is the default user type. The Permanent User's PIN can be used 24/7 and is not limited by any schedule or expiry date.
Temporary User: Temporary Users have full access for specific period of time. The time period is defined as start date & time, and end date & time, during which the PIN can be used.
Example: Contractors, Airbnb customers, guests.
Scheduled User: Scheduled Users have PINs with limited usage according to a set schedule. The schedule can be for specific days of the week and times of the day. Scheduled users do not have an expiry date.
Example: Cleaning crew, landscapers, employees in a business.
---

Partner Satisfaction and Efficiency:
ClareOne Panel Backup and Restore:
This feature gives installers an easy way to back up their customer's ClareOne panel configurations and restore previous backups if something is changed or broken.
When creating a backup, all ClareOne settings, device configurations, user settings, PINs, and user created actions are captured in the backup. The backup can either be restored to the same ClareOne panel, or it can be used for a panel swap out (RMA) scenario. Note, for a panel swap, devices that require account linking will need to go through that process again.
The Backup and Restore feature can be accessed in an Account under the Maintenance tab.
Delete Account:
Company Administrators can delete an entire Account, completely removing it from FusionPro. An Account has to be suspended before it can be deleted. Once an Account is deleted, it cannot be reversed and the Account will no longer be linked to a ClareOne system. Deleting an Account does not reset a ClareOne Panel which must be reset before using it on a different account.

Suspended Accounts can be re-instated. Be aware that suspending an Account will automatically deactivate monitoring Interactive Services and downgrade the service plan to Basic.
Related Article:
How to Delete an Account in FusionPro
Account Lockout:
A new remote lockout feature has been added allowing Partners to remotely enable or disable the ClareOne user interface. As long as the ClareOne Panel is online using WiFi, Ethernet, or LTE, the panel can be accessed through FusionPro to implement the lockout. When locked out, the user is presented with the Activation screen that can be pre-configured to display re-activation instructions for the user.
---

Performance, Reliability, and Other Changes:
LTE Configuration in the ClareOne Panel:
ClareOne LTE cellular feature has been improved, making it more stable and reliable. The update also allows dealers to completely disable cellular connectivity by selecting a new "None" option when setting up cellular backup on both Verizon and AT&T supported panels.

Related Articles:
ClareOne Activation Process Tech Bulletin
Expanded WattBox and Keypad Capabilities:
In our previous update, we announced support for WattBox IP Controllers and Keypads. We have improved this integration, allowing FusionPro admins to see the names of all devices connected to a WattBox.
Additionally, Partners can change the IP address of WattBox IP Controllers, as well as viewing the model type under the Devices tab in an Account.
Additional Bug Fixes and Optimizations:
Included in this update are many other enhancements that improve system performance, reliability, stability, as well as bug fixes and other changes. This includes but is not limited to:
Tamper and Low Battery alerts will no longer repeat being sent to the central station after the first send.
The central station will no longer receive tamper alerts after bypassing zone when arming security.
Resolved an issue when instantly arming security being converted to arm stay after a panel reboot.
Resolved an issue that could prevent the FusionPro home page from loading after logging in.
NVRs that use a question mark "?" in the password can now be added in FusionPro.
Resolved an issue that could prevent a monitoring test from successfully completing.
Resolved an issue that could prevent panels from using the previously released Central Stations selection when updating company settings from using Alarm Reporting Numbers to Central Stations.
Fixed a bug requiring the installer to press the 'Test All' button twice to initiate a series of tests under the Test tab.
Fixed an issue where Low Battery Trouble Conditions would not display.
Removed the Edit UUID button in FusionPro which has been replaced by the Replace Panel Wizard.
Changing Primary User will only change the Primary User email and does not remove user PIN codes. To move out a user, please use the new Rapid Move-in/Move-out feature.
Fixed an issue that prevented the status of a WattBox IPC would not update after changing the IP address.
Fixed an issue that could prevent changing the IP address of a WattBox IPC if it was offline.
Resolved an issue where the two-way emergency calling number could not be removed from the Account.
Increased the default Account view list from 20 rows to 200.
Fixed an issue that prevented an obsolete Central Station from being removed from Company Settings.
Changed account permission issues related to a Billing Administrator role.
Changed Security Admin permission to allow Changing Primary User.
ClareOne 360 Degree Motion Detector no longer displays as "Other".
Fixed an issue that could prevent the Z-Wave siren from sounding during a siren test.
Fixed an issue that a No SIM icon would display on deactivated AT&T Panels. Note: This is still present on Verizon Panels.
Resolved an issue that prevented 406 Cancel Event errors from being sent to the Central Monitoring Station.
Fixed an issue that prevented additional WattBox IPCs from being added to a Clare Controller.
Updated EULA and Privacy Policy:
We have updated the Clare EULA and Privacy Policy to reflect those of Snap One EULA and Privacy Policies. Both can be found HERE.
---

ClareOne System Operation:
Trouble Condition Silencing:
Based on customer feedback and request, users can now silence trouble conditions which will stay in silence mode until the ClareOne Panel is rebooted or a new trouble condition is triggered for the sensor. The Trouble Condition can still be viewed by tapping the exclamation mark on the Security home screen or by scrolling through the sensor list.
Silencing Voice Annunciations for Arming, Disarming, and Trouble Condition:
Users can silence the audible sound for arming and disarming security, as well as trouble condition sounds. If a trouble condition is silenced, it will only sound again if a new Trouble Condition occurs or the ClareOne Panel is rebooted.
Configure Actions for All Alarm Types:
Previously, only intrusion and fire trouble conditions could be used when creating Actions. Now users will be able to use all alarm types to trigger a custom action. This includes actions such as fire and water detection, high/low temperature detection, intrusion, etc.
---

Improved User Interface and System Information:
Updated ClareOne Panel User Interface:
The ClareOne Panel UI has been updated, unifying the color scheme and style with the rest of the Clare product UI. The updated UI introduces additional animations, as well as transitioning to blue/yellow UI elements, with red and green reserved strictly for security features.
LED Status Indicator:
The LED lights located on the bottom bezel have been improved to better indicate the status and condition of the ClareOne Panel.
Green: The Panel is in a Ready State and can be armed.
Yellow: The Panel has tampered or a Zone has been tripped.
Blue: Security has been armed or is being armed via entry delay.
Red: Security has been alarmed or Emergency (police, fire, auxiliary) is triggered.
ClareHome App Color Wheel for Supported Lights (ClareHome App only):
Users who have Philips Hue lights can adjust the color and brightness of their lights from the ClareHome App. Once a specific light tone is selected, the light will always revert to this color until it changes.
Relay Switch Control Tile (ClareHome App only):
Relay switches can be configured to better control the device they are managing. The new configuration settings allow Partners to specify toggle options for the relay, including toggle open/close states, timed operation, and tap and hold to operate. This new feature is perfect in instances where a relay is needed to operate a gate, fireplace, garage, or any other device that is wired to the relay.
The new update also adds support for Fibaro Single and Double Toggle Relay switches, as well as Fortrezz MIMO2+ Relay switches. You can learn more about these new drivers in the Drivers and Integrations section.
All Lights Control Tile:
The 'All Lights' control tile previously available for the ClareHome App and ClareOne Auxiliary Touch panel is now available for the ClareOne Panel as well. This new tile can be added to the ClareOne Favorites screen which will display a popover showing all available lights grouped by areas. The lights can be toggled ON/OFF individually or by entire areas. Dimmers can also have their brightness adjusted from this popover menu.
Various Other User Interface Improvements:
In addition to the new updated color scheme, other minor adjustments have been made to icons, colors, animations, and backgrounds, as well as sizing of elements to better improve legibility, clarity, and understanding of device statuses. This also includes an update to the keypad popup display to better indicate the pressed state of buttons.
Improved Activity Logs:
The Activity Log has been improved to show logged ClareVision camera motion and smart events with a preview snapshot image of the event on the ClareOne Panel. This new feature will also show motion and button press events from the Video Doorbell.
New Support Center and Troubleshooting Area in App:
End users can access a new Support Center section in their ClareHome App that offers troubleshooting steps and best practices.
Create an Area Button when Moving Devices to a Different Area:
A new 'Create Area' button will be displayed when a user attempts to re-assign a device to an area that might not exist yet or if there are no areas to select from.
---

Drivers and Integrations:
Climax BX-23ZW Outdoor Siren:
ClareOne supports the Climax Z-Wave Outdoor Siren which will now sound if the ClareOne Panel is in an alarmed state. The siren features weather-resistant housing allowing it to be used in outdoor settings.
Fibaro Z-Wave Relay and Fortrezz MIMO2+ Relay Switches:
Partners can now use Fibaro Z-Wave and Fortrezz MIMO2+ relay switches in their projects, allowing them to integrate devices that require momentary relay input such as driveway gates. This integration is supported by the new relay tile which can be configured for toggle open/close, delayed and toggle input, or momentarily while the operation button is being pressed.
---
Last Updated: 05/10/2023