We have released the final part of our ClareVision camera firmware for Value and Performance Series cameras. This update significantly improved motion detection capabilities, adds Chrome browser support for PC, and more. Please refer to the complete release notes below to see what's included in this release. Here's what's included in this release.
Related Article:
How to update ClareVision camera firmware through the NVR virtual host
IMPORTANT: To take advantage of the new video encryption features, users MUST update their ClareVision App if they are using new NVR or camera firmware. If the App is not updated, users will not be able to access their video streaming services.

Chrome Browser Support
Dealers can now access the camera web console using Chrome browsers on PC. This includes setting up and configuring camera settings, viewing playback, and everything else that was possible using the Internet Explorer web browser. Chrome support is not included for Mac at this time.
IMPORTANT: The camera plugin is independent from the NVR plugin. You should download and install both for an optimal browser experience. You can download the camera plugin when accessing a camera through the web console and the NVR plugin can be downloaded when access the NVR web console.
Please clear your browser cache if the web page is not displaying properly.

Improved Detection Capabilities
Basic motion detection has been significantly improved to help reduce false triggers from moving shadows, sudden light change, insects, and movement of trees and bushes.


Additionally, you can now filter for human body detection under motion detection and smart events for all Performance Series cameras (Performance Series only).
New OTA Firmware Service Button in Web Console
Like with NVRs, we have added a new OTA Service Update Button that can be found in the web console of the camera to allow you to check and download the latest firmware for your device.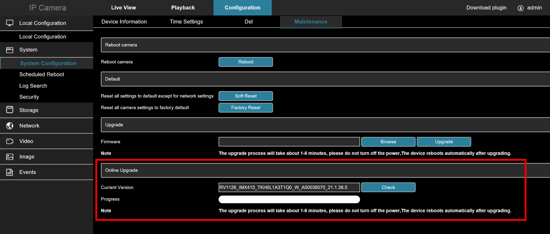 Improved Notification Logic:
The new detection logic will significantly improve the accuracy of push notifications in the ClareVision App.
NVR OvrC Pro Hub Support
Dealers can now remotely access a customers NVR or camera using OvrC Pro to view video, adjust settings, and perform remote troubleshooting.
Improved Encryption
The new camera firmware enables new video encryption capabilities. If a camera is updated with this latest firmware, the end user will be required to update their ClareVision App to the latest version for it to function properly.
Password Enhancements
We have enabled special characters which can now be used as part of a camera password. Changing the devices default password will be made a requirement as part of the device setup process in the ClareVision App if it wasn't changed in the web console.
Virtual Host Improvements
Video pass-through has been enabled when accessing the camera through an NVR using the Virtual Host.
---
Resolved Issues and Engineering Notes


Issue

Description/Resolution

CAM-276

Symptom

Users receive multiple push notifications for every event.

Status

Corrected issue that would result in two push notifications for each event.

CAM-266

Symptom

Event list makes it appear to the user as if the camera stopped recording events.

Status

Increased event buffer from 84 events to 512 events. Events are fetched from the most current to least current event in a standard 24-hour event filter.

CAM-271

Symptom

Events stop recording to SD card at an arbitrary length of time.

Status

Corrected firmware defect in recording logic.

CAM-368

Symptom

Unsuccessful OTA update with Android and iOS occasionally did not show the availability of an OTA update.

Status

Corrected problems with OTA update services.

CAM-371

Symptom

IR does not turn on at night on an 8MP camera (all models) with WDR enabled.

Status

Corrected a bug related to WDR and IR mode.

CAM-357

Symptom

ONVIF compliance issues related to push-pull notifications and methods.

Status

Corrections made and validated.
Last Updated: 10/1/2021