CLR-C1-WTR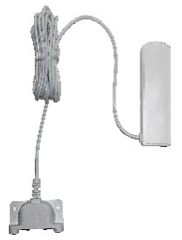 Description
The CLR-C1-WTR Water Detector is not a self-contained warning device. For proper operation, it must be used in conjunction with a ClareOne Panel. The transmitter mounts on a wall or other flat vertical surface, and the remote probe is placed in the location where water leakage is most probable.
When moisture forms a bridge between the two metallic contacts on the remote probe the detector signals an alarm condition. The output on the CLR-C1-WTR remains in the alarm state until the moisture bridge is broken. As sensitive as the water detector is, it does not alarm due to high humidity or condensation. The water detector is ideal for use in homes, offices, computer rooms, warehouses, etc.
Features
Water detection when liquid makes contact with probe
Contacts above floor level to prevent false floor condensation detection
Checks for water constantly, requires two positive checks for a valid alarm
Battery checked every hour
Batteries (2) CR2032
Tamper switch included inside transmitter
Installation
When mounting the wireless device, make sure it is not mounted on metal or where there are any large metal objects between the device and the ClareOne panel.
Mounting the probe to a vertical surface like a wall enables monitoring of an area for rising water levels. Use wherever unwanted water may accumulate.
Suggested areas: Near water heater, washing machines, under sinks, and sump pumps.
Mounting:
Mount the transmitter as high as possible, the water probe has a 6 ft cable attaching it to the sensor. The probe can be mounted to the wall or floor using mounting screws or the adhesive strips provided.
Mount the transmitter using the supplied double-sided tape.
The probe mounts directly to the floor or can be attached to a wall using tape or screws.
Programming
To add the sensor to your panel and for detailed programming instructions, please refer to the ClareOne Wireless Security and Smart Home Panel User Manual (DOC ID 1871).
To add the sensor:
Put the ClareOne panel in "add mode" and follow the displayed instructions for adding the sensor.
Open the sensor body case to tamper.
Exit "add mode."
Test procedures
To test the operational status, form a water bridge between the two metallic contact points with a moistened finger or cloth. If working properly, the detector activates the warning device to which it is connected within approximately three seconds. The detector resets automatically when the probe dries and there is no longer a water bridge between the two metallic contact points.
Specifications
Compatible panel

ClareOne (CLR-C1-PNL1)

Transmitter frequency

433MHz

Encrypted

Yes

Transmitter indications

Tamper and low battery

Supervisory keep-alive

60 to 70 minutes

Battery type

(2x) CR2032

Battery life

8 to 10 years

Water detection

1/32 in

Operating environment Temperature
Relative humidity


32 to 122°F (-40 to 60°C)
95 % noncondensing

Sensor dimensions

2.5 × 1.0 × 0.5 in.
(63.5 × 25.4 × 12.7 mm)

Transformer dimensions

1.77 × 0.7 × 0.38 in.
(44.96 × 17.78 × 9.65 mm)

Water resistant

Yes (probe)

Certifications

FCC: 15.109 Class B 15.231, Industry Canada: ICES-003, RSS-210
Full PDF - ClareOne Water Detector Installation Sheet (DOC ID 1948)