CLR-C1-ZW-SRN

Introduction
This guide briefly introduces the ClareOne Siren, part number CLR-C1-ZWSRN.
Figure 1: ClareOne Siren callouts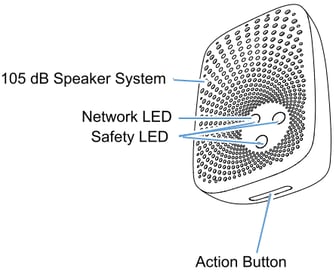 Important safety information
Please read this and the online guide(s) at https://www.clarecontrols.com/helpcenter. Failure to follow the recommendations set forth by Clare Controls may be dangerous or cause a violation of the law. The manufacturer, importer, distributor, and/or reseller will not be held responsible for any loss or damage resulting from not following any instructions in this guide or in other materials.
| | |
| --- | --- |
| | WARNING: To prevent possible hearing damage, test only when wearing appropriate hearing protection. |
The Siren is intended for indoor use in dry locations only. Do not use in damp, moist, and/or wet locations.
Programming
The following instructions will step you through installing the ClareOne Siren and connecting it to your ClareOne Z-Wave network.
To add the siren to the ClareOne Z-Wave network:
Plug the siren into the desired power outlet.
Note:

Do not plug the siren into a receptacle controlled by a switch.

Use FusionPro or FusionPro Mobile to put your ClareOne panel into Z-Wave Discovery mode.
Refer to "Adding Z-wave devices," the FusionPro User Guide (DOC ID 1918)

.

Press the Action button on the siren.
When the siren successfully joins the ClareOne Z-Wave network, its LED flashes twice and turns to a solid color for 2 seconds before turning off.

Note: If the LED flash 3 times before turning off, it did not join the Z-Wave network; remove the siren and then repeat the above steps.

The ClareOne Siren is now a part of the ClareOne Z-Wave network.
To test the siren's speaker system manually: Press and hold the Action button for 5 seconds.
WARNING: Test only when wearing proper ear protection. Siren speaker emits tones up to 105dB that can cause hearing damage.
Get help and learn more.
Should you encounter any problem with the ClareOne Siren visit www.clarecontrols.com/helpcenter or contact our support team at claresupport@clarecontrols.com.
Manufactured for Clare Controls by Aeotec Limited (#704, Bright Way Tower, 33 Mong Kok Rd, Mong Kok, Hong Kong) contactable via aeotec.com/contact. The importer and/ or distributor of this device can both be reached separately with the company from whom you have purchased this device from responsible for warranty, technical support, and compliance related queries.
Disposal guidelines and WEEE.
Clare Controls devices may contain batteries; remove when not in use. Do not dispose of device as unsorted municipal waste, use separate collection facilities. Contact your local government for further information.
Specifications
Compatible panel

ClareOne (CLR-C1-PNL1)

Repeater

Yes

Z-Wave plus

Yes

Max volume

105 dB, reduced in battery powered mode

Input voltage

120V 60Hz, Max: 30mA

Battery type

Built-in Lithium 430mAh

Battery life

3 hours total use

Alarm power

1.7W

Max standby power

0.7W

Operating environment Temperature
Relative humidity


32 to 113°F (0 to 45°C)
95% noncondensing

Sensor dimensions

3.3 × 2.2 × 1.8 in.
(83.2 × 55.9 × 45.7 mm)

Certifications

FCC: 15.109 Class B 15.231