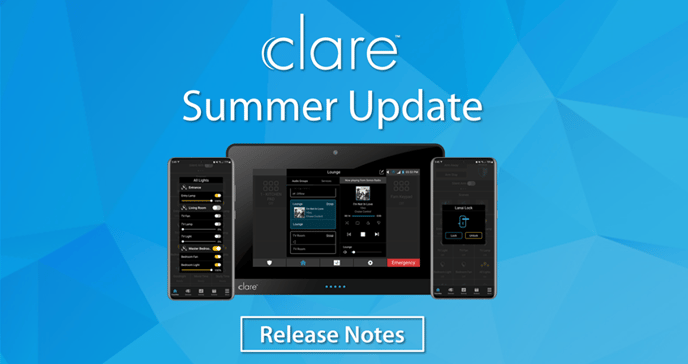 A new update has been made available for the ClareHome app, ClareOne, and FusionPro as part of our continued expansion of the ClareOne platform.
This update packs several new requested features and improvements, including a new dealer branded activation page, SONOS and HEOS speaker controls on the ClareOne Panel, exclusive SONOS speaker usage as a siren, updated UI color scheme, new lighting control tiles for all lights, new drivers, and much more.


Latest Firmware Versions
ClareOne:
Software Version: v2.2.56
Image Version: v2.0.14
ClareHome Version: v9.4.3

The ClareHome app has received updates to the user interface, as well as new favorites tiles.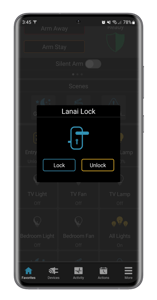 Improved User Interface:
The UI color scheme will streamline and simplify icons with new colors, making it easier to know the status of connected devices. The new color scheme consists of shades of yellow and blue instead of green and red which is now reserved for security.
Example: Devices in an open state such as door locks, garage door, etc., will now be displayed in yellow when unlocked or blue when locked.



New Favorites Tiles: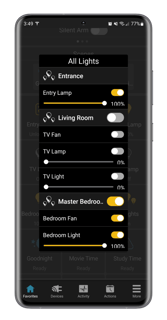 All Lights Control Tile
Users can now add an "All Lights" favorites tile which will display all their smart lights such as switches, dimmers, fans, etc. in a single control interface. The lights are grouped by the area they are installed in, allowing individual lights to be controlled or entire rooms to be toggled ON/OFF at once.
Wattbox IPCs Control Tile
A new tile is now available that gives users control of their Wattbox IPCs, allowing them to individually power cycle or control connected appliances and devices from the ClareHome app. When tapping the tile icon, a new control keypad will be displayed that shows all connected outlets. The keypad supports models up to 18 control outlets.
RadioRA 3 Keypad Controls:
The new RadioRA3 support allows users to control all their RadioRA3 devices, including dimmers, switches, fans, and shades, through a new keypad control window.


Instantly Arm Security in Scenes and Actions:
Users now have the option to instantly arm their security when creating and running a scene or action. This will allow the audible arming countdown timer to be skipped the moment security is ready to be armed in the sequence.
New Door Lock Animations:
The door lock popover has been improved with a new animation that let users know when the lock should be moving vs. locked or unlocked.

We haven't forgotten the ClareOne Panel! This update introduces several important improvements and new features for users to enjoy, as well as features for dealers to improve their branding capabilities.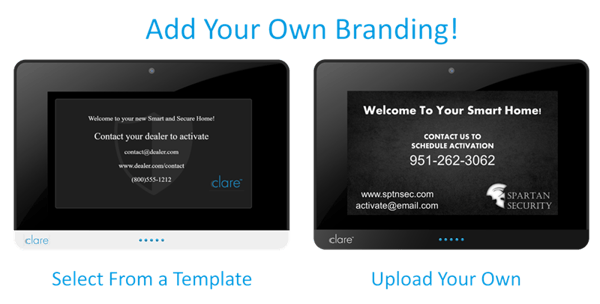 ClareOne Panel Dealer Branded Activation Screen:
Dealers can now add their custom branding such as logo, website, and contact information to the ClareOne Panel activation screen. Dealers can even design their own custom background and upload it through FusionPro to cover the entire activation screen.
Dealers who install the ClareOne Panel in newly constructed homes will find this feature particularly useful as it will help prompt their customers to call the dealer for system activation as soon as the customer moves in.
Customize your company activation screen in FusionPro by tapping Companies > Dealer Branding. You will need to download your branding from the Installer Settings on the ClareOne Panel. You can then add your branding to each individual ClareOne Panel from Installer Settings > Dealer Branding.
The activation screen can display a welcome tag, email, website, phone number, and logo, or upload a fully customized lock out screen as a static overlay image.
Greet users and prompt them to contact you for system activation.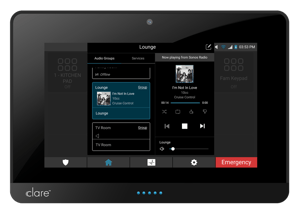 SONOS and HEOS Audio Control Tiles:
A new Audio Favorites Tile is now available on the ClareOne Panel allowing users to control their HEOS or SONOS sound system. The new audio control screen lets you play your favorite tunes, control volume, transport music, group devices, and manage settings, all from a single interface.


SONOS Speaker as Sirens
Exclusive to the ClareOne Panel, we have expanded our SONOS integration to allow dealers to configure SONSO speakers as a siren. During an alarm event, any active music will instantly mute and an appropriate alarm tone will sound in the configured zone (fire, burglar, etc.). Once suppressed, the speaker will return to the music that was being played.


Additional ClareOne Panel Changes and Improvements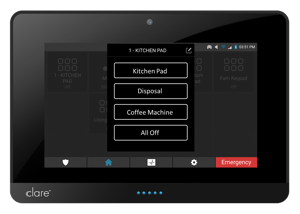 Like the ClareHome app, the user interface color scheme has been updated to reflect the new color style of some favorites icons to help improve the aesthetics and readability.

The Favorites page on the panel can now be re-arranged similarly to how users can on the ClareHome app. Simply tap and hold on a tile slot to enter edit mode.
Every supervisory signal sent to the panel from a transmitter will now update the sensor health (battery and signal strength). You will now receive updates once per hour rather than on open events only.
We have added an auto-refresh to camera favorites tiles on the ClareOne panel, allowing the snapshots to update more frequently and look more current.
Instant arming is now available for use in actions and scenes which will suppress the audible countdown timer.
Keypads are now supported on the panel and are integrated with the IP Controlled Wattbox series of products and RadioRA 3. You can now conveniently turn ON/OFF any AC powered device from the convenience of your ClareOne Panel.
We have improved the custom voice feature to reduce the chance the voice stuttering during certain playback passages.

The installer settings have been updated to include new features.
Fobs and panic pendants are now exposed in the panel settings.
Fobs and panic buttons are now supported by the Control4 driver.
We have made the entry delay setting more flexible and provided longer delay options.
You now need to use a PIN code to remove a snapshot from the activity log. The activity log entry cannot be removed at all.

Dealer Branding:
Company Administrators can now customize the Activation Screen found on a ClareOne Panel with their own branding. Select from a template and add a brief welcome message, your contact info, and logo, or upload a completely customized static background screen that will be displayed on the Activation screen of a ClareOne Panel.
Dealers can access the Dealer Branding page by going into Companies > Edit > Dealer Branding. Dealers will have to enable the custom Activation screen from each individual panel as needed.
Communication Log Tab:
The Security events log has been moved to its own tab under Communication Log. Here, dealers can see all security events that are sent to the Central Station, view report codes, filter by events and dates, and export data as a .csv file.
Activity Log Tab:
The Activity Log tab displays the same system activity that is currently shown on the ClareHome app located under the Activity section.
Customer Onboarding Invitation Button:
The Onboarding tab has been replaced with a new Customer Invite button located on the Customer Info Tab. This button will appear when a new account is created.



We are excited to announce the release of additional new drivers for your custom projects!




IP Controlled Wattbox Power Management Devices:
Control Wattbox connected devices from the ClareHome App, ClareOne Panel, or include them as part of an automation. Users can now remotely reboot a connected router, control hot water devices, or any other AC powered device from the convenience of the ClareOne platform.




Lutron RadioRA3.
As part of our continued support of Lutron lighting and shading systems, we are rolling out RadioRA3 support. The ClareOne panel now provides you the flexibility of using Casetta, Select or RadioRA3 on your projects. Additionally, we have added keypads to the ClareOne panel in support of Lutron's RadioRA 3 platform.




Hunter Douglas Gen3.
Clare now officially supports the next generation of Hunter Douglas PowerView Gen3 shades and products.


Releasing Middle of July:
The ClareOne Auxiliary Touchpanel also features an update to bring it on par with the new ClareHome App and ClareOne Panel user experience. Take a look!
Removed the requirement to hit 'Enter' after the pin code to disarm or arm.
Voice annunciations are now available on the Auxiliary Touchpanel. They can be optionally turned off. Users can also enable a new Silent Mode schedule option where the Auxiliary Touchpanel will not annunciate anything.
Added a siren feature to the Auxiliary Touchpanel. Note, this siren is not intended to replace auxiliary sirens as it does not meet the 85db sound requirement.
The Auxiliary Touchpanel has received an update to its graphical interface. While subtle, we believe users will agree that it improves the app aesthetics and readability.
The door lock popover has been improved with a new animation that let users know when the lock should be moving vs. locked or unlocked.
The "All Lights" favorites tile has been added that allows users to put all their light switches and dimmers in one place making lighting control far more convenient.
Keypad control for Wattbox IP controlled power management devices (up to 18 buttons) so you can control any AC appliance connected to your Wattbox from the Clare app.
Added keypad control to emulate RadioRA 3 keypads.
---
Last Updated: 07/01/2022