Issue
The ClareVision Plus (CVP) 4MP cameras, CVP-M4B50-ODI, CVP-M4D50-ODIM, and CVP-M4D50-ODI are not compatible with the legacy ClareVision NVRs.
Solution
To use the CVP 4MP cameras with legacy ClareVision NVRs, the camera resolution must be set to 1920*1080P. Use the following information to configure 4MP CVP cameras with legacy NVRs.
You will need access to the camera, the NVR, an Ethernet cable, and a laptop that has the SADP tool.
Note: The SADP tool is found on all CVP product page on the Clare Controls website.
To change the cameras resolution:
1. Verify that the camera is properly connected to the NVR.
2. Use the Ethernet cable to connect the laptop to an open camera port on the NVR.
If there is not an open camera port on the NVR, temporarily unplug a camera.
3. Use the laptop to configure a static IP address for the Ethernet port used. See the below configuration.
Note: The process to create a static IP address varies by computer model, see manufacturer instructions for setting IP addresses using your computer.
IP address: 172.16.100.100
Subnet mask: 255.255.255.0
Gateway address: N/A
4. Open the SADP tool and locate the 4MP camera's IP address, referencing the camera's model number.
Note: The camera's IP address uses the same scheme as above, 172.16.100.x.
5. Open a web browser, enter the camera's IP address in the address bar, and then press Enter.
Note: We recommend using Mozilla Firefox, Internet Explorer, or Safari.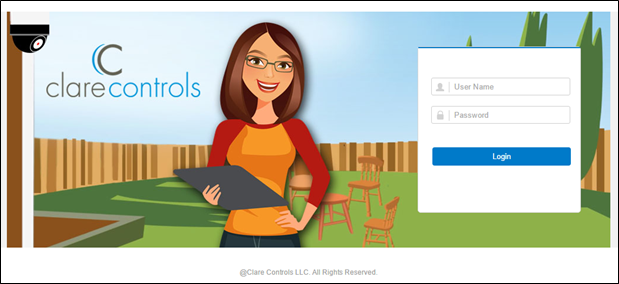 6. Log into the camera. The default User Name is clareadmin, and the Password is secure7.
Note: If the camera has been previously configured, the username and password may have of changed. Obtain this information from the person who configured the camera.
7. Browse to Video.
Configuration > Video/Audio > Video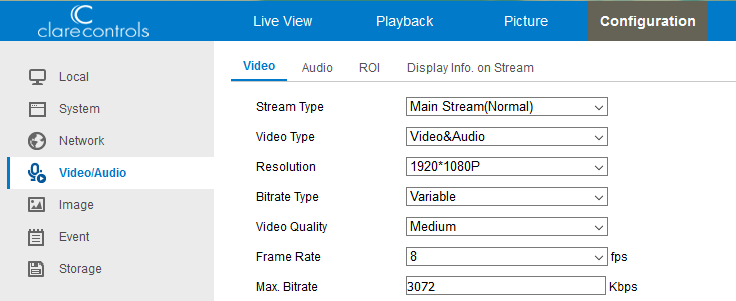 8. Verify that the Stream Type is set to Main Stream (Normal), and then set Resolution to 1920*1080P.

9. Click Save.
The camera is available online immediately.
10. Remove the static IP address from your laptop, and then reconnect any cameras disconnected from the NVR.
Full PDF - Using ClareVision Plus 4MP Cameras with ClareVision NVRs (DOC ID 1562)