IR Receiver and Emitter Cable Kit Product Bulletin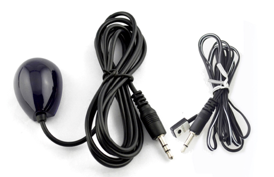 Overview
The IR Receiver and Emitter kit lets you control your entertainment components even when they're housed in another room or equipment closet.
The kit includes a 5 VDC IR receiver and IR emitter. The IR receiver and emitter are small, inconspicuous devices that you can mount on your HDTV, or anywhere else in the room where you will want to point your remote. Both are small and very easy to hide, but must be in line-of-sight from your couch, chair, or wherever you'll be sitting when using your remote control.
When the IR receiver receives your remote control's commands, it sends them to the HDBaseT receiver, which you can hide out of sight. The HDBaseT receiver then sends the signal though your matrix switcher to your components.
Use the IR emitter when you want to control your HDTV via IR. Mount the emitter over your TV's remote sensor.
Features
60" black cables that are easy to connect and conceal
Compatible with the Clare Controls HDBaseT receivers and all universal remote controls
Sensor can be mounted using 2-sided adhesive tape provided
Small for easy installation, concealment
Kit Configuration
Control your entire rack of equipment when it's out of sight, or in another room.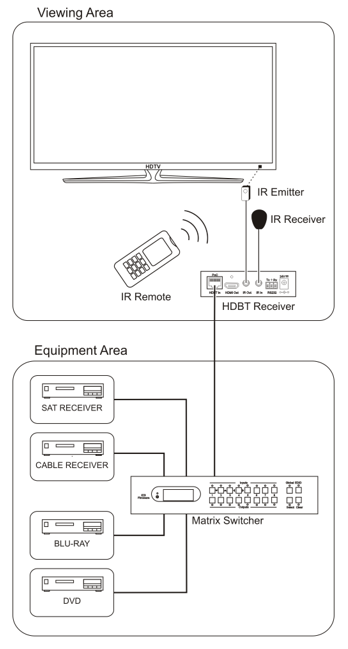 Full PDF - IR Receiver and Emitter Cable Kit Product Bulletin (DOC ID 555)