New NVR Firmware is available. This firmware is part of our August-September ClareVision update which introduces several important features dealers have been asking for, as well as quality of life improvements, and much more.
You can download the latest firmware for a ClareVision NVR from the firmware database below. The NVR firmware can also be downloaded and installed through the ClareVision App by the end user when prompted.
IMPORTANT: To take advantage of the new video encryption features, users MUST update their ClareVision App if they are using the new NVR firmware. If the App is not updated, users will not be able to access their video streaming services.



Chrome Browser Support
Dealers can now access the NVR web console using Chrome browsers on PC. This includes setting up and configuring NVR settings, viewing playback, and everything else that was possible using the Internet Explorer web browser. Chrome support is not included for Mac at this time.
Automatic Password Carry-over
In an effort to improve the camera setup process for cameras attached to an NVR, whenever a new ClareVision camera is attached to the NVR, the camera user ID and password will automatically be set to that of the NVR.
Additionally, if the NVR password or user ID is changed, it will subsequently be changed on any attached cameras. This feature eliminates the need for a password to be separately configured for each camera attached to an NVR, making the setup process significantly shorter and more streamlined for our dealers.
New OTA Firmware Service Button in Web Console
We have introduced a new OTA firmware check button that can be found in the web console of an NVR. This button will check to make sure the firmware is up to date, as well as download and install any new firmware if available.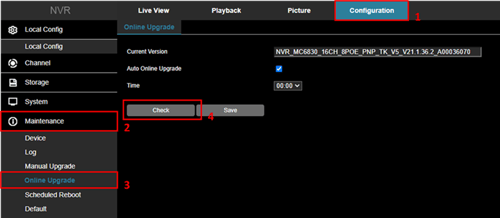 Dealers can schedule the firmware to be automatically installed without having to approve it by the end user in the ClareVision App if new firmware is available. This feature is turned OFF by default.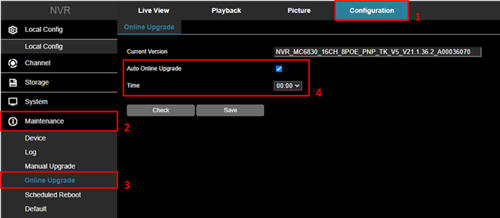 Please note, the NVR must be updated to the latest firmware for this option to be displayed. You can download the latest firmware from the ClareVision firmware database HERE.
Smart Event Setup in NVR
Dealers can now configure smart events for cameras within the NVR, removing the need for each camera to be logged into separately to have the smart events updated.


NVR OvrC Pro Hub Support
Dealers can now remotely access a customers NVR using OvrC Pro to view video, adjust settings, and perform remote troubleshooting. An OvrC Pro hub is required to use this feature.
Improved Encryption
The new NVR firmware enables new video encryption capabilities. If an NVR is updated with this latest firmware, the end user will be required to update their ClareVision App to the latest version for it to function properly.
IMPORTANT NOTE: New NVR firmware will not work with the old version of the ClareVision App. It is extremely important that end users update their ClareVision App to the latest app version if they will be using the latest NVR firmware.
Password Enhancements
We have enabled special characters which can now be used as part of an NVR password. Changing the devices default password will be made a requirement as part of the device setup process in the ClareVision App if it wasn't changed in the web console.
General Improvements and Big Fixes
In addition to the above features, we are releasing several bug fixes and performance improvements to enhance the end user experience. For a full breakdown of this list, please view the chart below.
---
Resolved Issues and Engineering Notes


Issue

Description/Resolution

CAM-315

Symptom

Events do not playback reliably from the NVR.

Status

Corrected timing issue with playback.

CAM-313

Symptom

Human body detection option could not be selected for smart events in the NVR for Performance (V200) series cameras. (Only face detection could be supported which is not a supported option today).

Status

Added human body detection to the dropdown list. Smart events can now be completely set up in the NVR.

CAM-378

Symptom

If you swap a camera on a port in the virtual host, you can no longer log into the cameras via the virtual host.

Status

IP mapping fixed. Swapping cameras is now enabled.