Introduction
The ClareNet Activation Portal allows you to connect the Fusion project with the central station monitoring service. Once you have successfully added and configured your security panel in Fusion and created your Central Station account, configure the security system in the ClareNet Activation portal.
Notes
You must be a Clare Controls authorized security dealer. Contact Tech Support to learn about becoming an authorized dealer.
The Central Station is selected and created outside of Clare Controls. This is an individual company decision, see your security experts for information on the central station services and configuration.
Verify that the myClareHome form is configured in Fusion. This form contains information vital in making sure that the customer contact information (phone number, address, etc...) is accurate for updates and security alerts.
To configure the ClareNet Activation portal:
1. Browse to the Clare Controls Dealer Dashboard.
2. Click ClareNet.
Note: ClareNet is only an available option when the user is signed in as a Clare Controls security dealer.

A list of projects with security options displays.

3. Click on the desired project.
The ClareNet Activation page displays.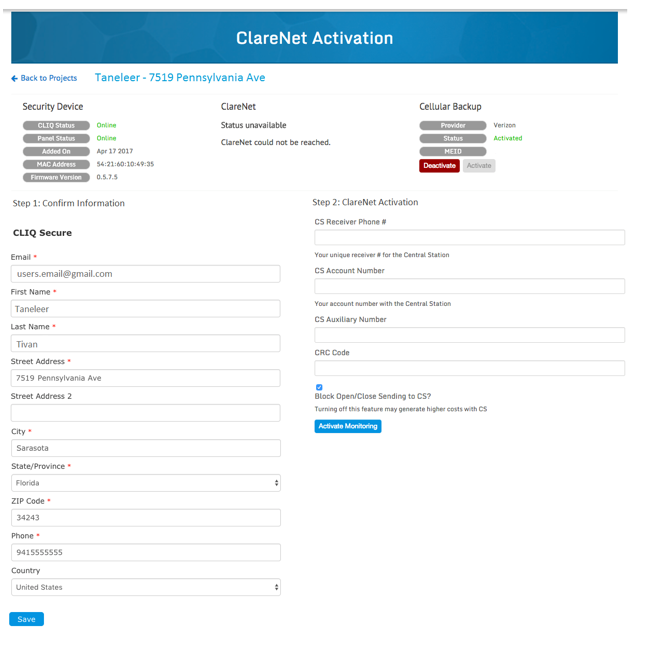 4. Configure Step 1: Confirm Information.
Verify and edit the Confirm Information fields as necessary.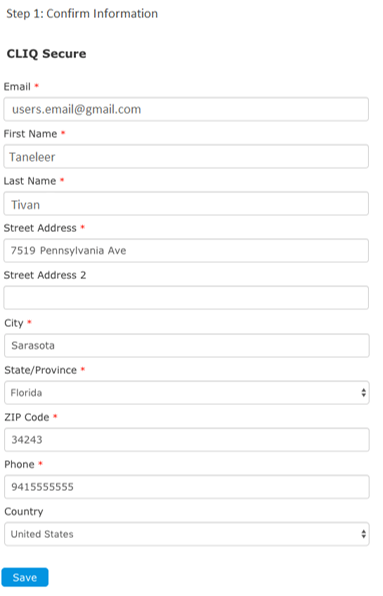 5. Click Save.
6. Configure Step 2: ClareNet Activation.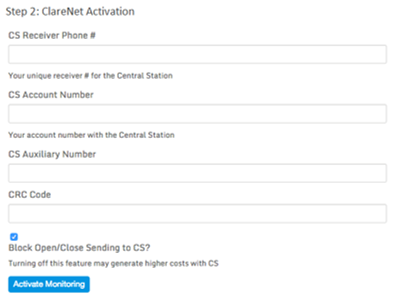 CS Receiver Phone #: The central station's receiver phone number.
CS Account Number: The central station account number.
CS Auxiliary Number: This is only required for some central stations.
CRC Code: The code provided on the security panel's box. If the box is not available, please contact the installer.
7. Click Activate Monitoring.
8. (Optional) Select weather that Cellular Backup is activated or deactivated.
Note: This is a paid service.
9. Test the alarm functions and verify that the ClareNet Activation portal is connected to the central station.
Note: If any information entered incorrectly the alarm updates and alerts may not function as desired. Clare Controls accepts no responsibility for any security configurations or setup.
Full PDF - ClareNet Activation Portal Configuration Tech Bulletin (DOC ID 1586)