CH-RTS3 Installation Guide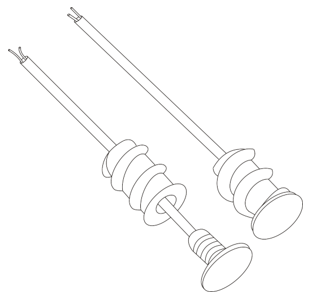 Introduction
The CH-RTS3 is a two wire remote flush mount temperature sensor. It is designed for use with the CH-THSTAT-W and the CH-THSTAT-Z.
Features
Type 2 Curve
Flush Mount
¾" disk
Self-threading wall insert
½" pilot hole
2 wire
10K Thermistor Style
Technical Specifications
The CH-RTS3 technical specifications, including the dimensions, wiring requirements, and installation instructions are found below.

Wiring Requirements
The CH-RTS3 sensor wires must be extended. Select one of the following methods.
Thermostat wire, maximum length of 250ft
Twisted pair (22GA), with a max length of 250ft.
Cat 3/5/6 cable (24GA) with a max length of 100ft for a single pair, or 200ft for a double pair.
When connecting the sensor wires to the thermostat base select the RS1 or RS2 sensor contacts.
Installation
The CH-RTS3 is designed for a flush mount in the wall or ceiling. Follow the instructions below for proper installation.
To install the CH-RTS3:
1. Drill a 1/2" pilot hole in the desired location.
2. Screw the self-threading remote sensor into the wall.
3. Press the temperature sensor into the wall mount.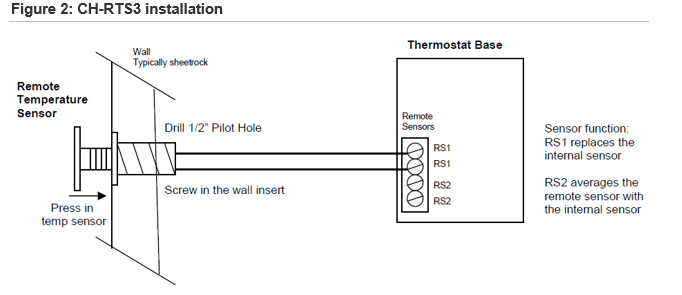 Full PDF - CH-RTS3 Installation Guide (DOC ID 1169)