A new update has been released for FusionPro designed to improve performance, add new features, and includes various bug fixes and optimizations. View the full release notes below.
---
New Features: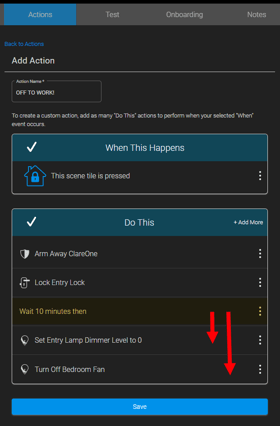 Device Action Delay Timer:
When creating actions, users can set a timer to either delay a device or scene from instantly executing. The Device Action Timer can also be used to instantly action a device or scene, and then perform a delayed action to turn off the same device or run a separate scene.
Example 1:
Create a simple Lock Up scene that will arm your security, then turn off the lights 30 minutes after you leave the house, making it seem like someone is still home for a while.
Example 2:
Create a security automation that turns on your backyard lights the moment motion is detected to ward off anyone who gets too curious. Then have the lights automatically turn off after 5 minutes.


There are many unique scenarios that can be created with Device Action Timers. Dealers can configure this feature in FusionPro Actions and end users can configure it ClareHome app Actions. It does not require an app update.
---
Performance and Security Improvements:
FusionPro Load Times:
Dealers with large number of projects rejoice! FusionPro load time has been significantly improved allowing for quicker viewing of all your projects and filtering data. This improvement will especially be noticed by dealers who have several hundred customer projects. This improvement also applies to the Staff area in your FusionPro account.
Removed Facebook Login Option:
In an effort to improve security and privacy, the Facebook login option has been disabled in FusionPro. More information regarding this change can be found HERE.
---
General Improvements:
Bmobile Integration:
ClareOne and FusionPro now supports Bmobile service provider and is available to their customers. We have also recently released support for cellular reporting for both Rogers in Canada and AT&T LTE. This requires a separate ClareOne Panel (CLR-C1-PNL1A).
Account Export:
The Account Summary export has been improved to include additional account details such as Controller Type, CS Receiver info, DNIS details, Gate Access Code, Community, Cross Street, Directions, and more.
Account List - New Sorting Options:
We have added the ability to view and sort the account list view by the system creation date and current subscription start date, making it easier for dealers to locate the desired account.
Customer Notes:
We moved the customer notes field to its own tab, as well as made the field larger. This change help improve viewing and accessing important notes about your customers account.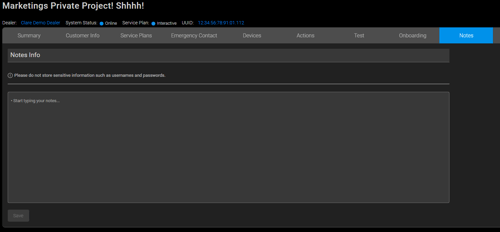 Remove Z-Wave Button:
The Remove Z-Wave button location has been changed to make it easier to notice and access when needed, especially when managing a customers account on a mobile device.
Customer Information Tab:
The Customer Information tab has been updated to now allow the entering of cross-streets and direction.
---
Bug Fixes and Other
Two-way Calling Edit:
Fixed a rare issue that could prevent the Edit link not responding when attempting to change two-way calling settings in the Service Plan tab.
Navigation:
If the dealer makes changes to the Central Station Communication path without saving their changes, a notice will popup letting them know they are navigating away from the page with unsaved changes.
Account Data Export:
Fixed an issue that would not export the account data properly if the user refreshed the page while on the account Edit screen.
---
Last Updated: 04/07/2022