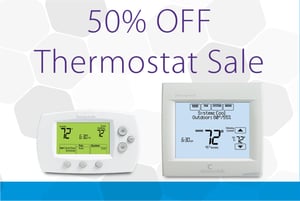 Strike back at the summer heat with a new smart thermostat that works with your ClareHome system and follows your schedule! For the entire month of August, we're dropping the price of our Clare-Honeywell Thermostats by 50%!
---
The greatest benefit of a smart thermostat is the ability to remotely control, manage, and program your favorite temperature through your mobile device. You no longer have to go through complex programming menu's. Clare makes setting up your thermostat to follow your routine easy and intuitive.
Your thermostat can follow your custom 7-day schedule
Remotely adjust your temperature while on your way home
Conserve energy and save money by using your AC when you need it
Add your thermostat to a scene and set the perfect temperature for a fun filled movie night
Have Amazon Alexa? Control your thermostat using your voice with Clare
Expand your home with our range of easy, DIY devices from MyClareHome.
Unleash your creativity and bring your home to life.