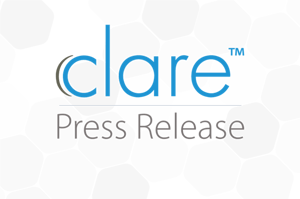 As one of the most impactful faces in the security industry, Gene Marks joins the Clare team to assist in propelling the ClareOne security and smart home solution to market.
Sarasota, FL. - January 14th, 2020 - Clare is excited to announce Gene Marks, a leading security industry veteran who has joined the Clare team as Vice President of Sales. Gene will be reporting directly to Clare President and CEO, Brett Price. Additionally, Gene will provide his expertise and facilitate the launch of the ClareOne Wireless Security and Smart Home Panel and security sensor line, as well as a new camera line later this year.
Gene brings with him a wealth of knowledge and over 35 years of professional experience within the security industry. Having started his career within the fire department in Chicago, IL, Gene fields experience with fire and burglary devices, as well as professional security systems. In addition to a colorful background, Gene was a Mayor, and has worked with local, regional, state, and federal legislators regarding policy and law updates. He served most recently as the Business Development Manager at Nortek Security & Control which owns brands such as 2GIG, Linear, GoControl, and others.
"The ClareOne platform was designed to disrupt the industry, giving dealers a way to stand out significantly amongst competitors while still providing a product that is competitively priced and packed with unique features," stated Brett. "With Gene's expertise and knowledge in the security industry, we believe the big question dealers will be asking of other solutions is – it's nice… but how does it compare to Clare?"
When asked why Clare was chosen as the next chapter in his [Gene's] career, his response was quick and to the point, "I am extremely excited - Clare has a strong vision and bright future ahead with products and services that exceed every requirement dealers and homeowners have. This is a very exciting time to be in the smart home and security industry."
We are pleased to have Gene Marks on the team and look forward to the future.
About Clare
Clare Controls is a provider of smart home solutions that blend professional installations with DIY system modification and expansion. Clare increases safety and convenience, helps conserve energy, integrates entertainment, and provides home security monitoring all in one sleek, simple-to-use App. Clare specializes in wireless smart home and security communication product manufacturing and provides US-based ClareCare consumer support to ensure client satisfaction. Clare Controls' products and services are offered exclusively through a network of licensed and authorized dealers. Clare's headquarters is in Sarasota, FL. For more information, visit www.clarecontrols.com. Like us on Facebook, follow us on Twitter, and connect with us on LinkedIn.